Scientology Moscow: Poetry of the East, an Evening of Interfaith Harmony
Press Release
•
updated: Feb 18, 2018
Members of many faiths gathered in fellowship for an evening of Oriental poetry at the Scientology Center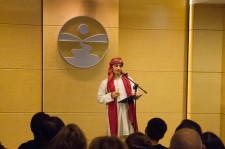 MOSCOW, February 18, 2018 (Newswire.com) - The celebration of World Interfaith Harmony Week brought together people of many faiths and cultures February 6 for an evening of friendship and poetry, music and song. The program featured Afghan poet and author Haydar Shah.
Mr. Shah's program included music, poetry and theater. He was joined by other artists and poets who presented their works. Brief videos on the religious beliefs of many religions were also shown.
Complementing the presentation was a screening of the video "Respect the Religious Beliefs of Others" that illustrates one of the precepts of The Way to Happiness — the nonreligious common-sense moral code written by humanitarian and Scientology founder L. Ron Hubbard.
World Interfaith Harmony Week was established to promote dialogue among different faiths and religions to enhance mutual understanding, harmony and cooperation. "All of the world's great religions share the values of peace, human dignity and respect for others," said UN Deputy Secretary-General Jan Eliasson in his World Interfaith Harmony message for 2018.
The Scientology Center, located in Moscow, is a place where people of different beliefs and views can meet and discuss the problems of society and develop and initiate programs of joint action for the benefit of all.
Source: ScientologyNews.org
Related Media