Scientology in Clearwater: Riding Out Hurricane Irma
Press Release
•
updated: Sep 11, 2017
Preparing for Hurrican Irma as it moves into the Tampa Bay Area.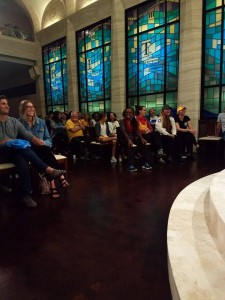 CLEARWATER, Fla., September 11, 2017 (Newswire.com) - While Flag has been providing spiritual counseling and training to parishioners who travel to Clearwater from around the globe, every possible space in the Fort Harrison and Oak Cove Religious Retreats have been filled with local Scientologists and neighbors in need of a safe place to stay while Irma passes through.
"The auditorium at the Fort Harrison. Every inch is full," posted one Scientologist who is riding out the storm there. "Movies, games for kids […] we are one gigantic happy family […] The noise level is like NYC Times Square on New Year's."
There are also Scientology Volunteer Minister seminars to help people prepare for the work that will be needed after the storm passes through the Tampa Bay area. International Volunteer Ministers headquarters in Los Angeles arranged to reroute Los Topos Azteca, the famous Mexican first responders, to Clearwater. They were working with the Scientology Volunteer Minister Disaster Response Team in Rockport, Texas, after Hurricane Harvey. Los Topos, which specializes in finding and saving survivors after major disasters, provided training on basic search and rescue skills and an emergency medical technician conducted a seminar on CPR — skills that may be needed after Irma moves through the region.
To help accommodate those staying at the retreats, trained chefs have stepped up to help in Flag's award-winning kitchens.
As Hurricane Irma began moving toward Clearwater, teams of staff and Scientology Volunteer Ministers boarded up the windows of nearby businesses.
Source: ScientologyNews.org
Related Media