Scientology Extreme Goodwill Tour Arrives at the Amazons, With a Mexican at the Helm
Press Release
-
updated: Apr 18, 2016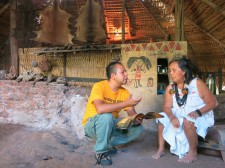 Peru, April 18, 2016 (Newswire.com) - The Scientology Volunteer Ministers goodwill tour returned this week to the Amazonian shores, for the seventh consecutive year, with the purpose of bringing effective help to the most marginalized communities of the area. The tour is led on this occasion by Daniel González García, native of Mexico City, and after two days of travel by plane, boat and on foot, the team of volunteers reached the community Cushillococha, Peru, where they have already contacted the leaders of the indigenous community that lays there, who have received the tour with open arms.
In the aforementioned locality, as well as in the other 40 communities that will be part of the route of the tour for the next six months, Scientologists will train the inhabitants in the tools for life contained in the Scientology Handbook, based on the works of L. Ron Hubbard, philosopher and founder of Dianetics and Scientology.
Daniel Gonzalez, who for nearly a decade has dedicated himself to altruism, has extensive experience in the area of the Amazons, having already visited dozens of villages in the past seven years, in the area of the "Three Borders", formed by the junction of Peru, Brazil and Colombia.
"For me, to help people who never receive help, and reach the most unreacheable parts of the world, like the Amazon, is more than an adventure, it is a life experience that forces you to reflect on the need to help others"says Gonzalez, who emphasizes that" all people must gain awareness of the fact that, no matter what happens, as our motto states, something can be done about it."
The team of volunteers travels the Amazons with the "Volunteer Ministers Boat", widely known in the area, identified by its residents as the "yellow boat goodwill", referencing the characteristic color of the volunteer ministry of Scientology.
In the past, Scientologists have teamed up with the Mexican Scout Association to bring aid to the Amazon, as well as with different authorities and groups of goodwill interested in improving living conditions in the area of the three borders.
While this phase of the tour is scheduled to end in early October this year, González emphasized that "this tour will continue, for many years, and will continue to help until all Amazonian communities enjoy a dignified life. Our help is unconditional and has no expiration date. "
The program of the Volunteer Ministers was created in the mid-1970s by the founder of Scientology, L. Ron Hubbard, who described the Volunteer Minister as "a person who helps his fellow man voluntarily to restore purpose, truth and spiritual values in the lives of others. "
For more information, visit www.scientology.org.mx
Source: ScientologyNews.org
Share:
---
Categories: Environmental Protection, Religion, Amusement and Theme Parks
Tags: Amazon, Goodwill Tour, Scientology Volunteer Ministers
---