Scientology Churches Back U.N. World Interfaith Harmony Week
Press Release
•
updated: Feb 9, 2016
Amid growing religious hate and violence, Church stands firm in its commitment to foster respect for all religions and the right of people to practice their faiths freely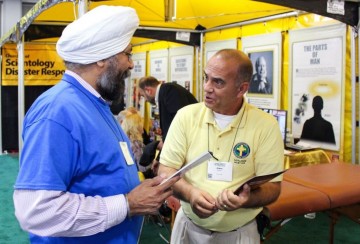 Los Angeles, CA, February 9, 2016 (Newswire.com) - Scientology Churches around the world are proud to support World Interfaith Harmony Week and pledge continued efforts to strengthen interfaith initiatives in their communities with multi-faith alliances to handle pressing mutual concerns such as drug abuse, immorality, illiteracy and crime.
This commitment comes as incidents of religious hate, violence and bigotry are increasing worldwide against people of numerous faiths.
"Religious leaders are in the forefront of creating positive change throughout the world. The U.N. General Assembly created World Interfaith Harmony Week because of 'the imperative need for dialogue among different faiths and religions to enhance mutual understanding, harmony and cooperation among people.' There is no better way to develop the understanding and respect that by working together to better conditions."

Fabio Amicarreli
One example of multi-faith cooperation involves the Denver Church of Scientology, working hand-in-hand with a Christian pastor in his gang intervention work to reduce crime, social decay and recidivism.
The Scientology Center of Tel Aviv also has become a haven for people of all faiths, starting with its grand opening of their new facility in 2012 featured speakers from the Bedouin Sector, a Biblical scholar and the chair of the Jaffa Arab Christian Community. The center is now a second home to Druze leaders, who have used the Truth About Drugs initiative that the center supports to reverse alarming alcohol and drug abuse trends among their people.
The president of the Church of Scientology and Celebrity Centre of Nashville, Tennessee, Brian Fessler, is also president of the Nashville Religious Communicators Council (RCC) and has taken on this responsibility "to bring diverse people together to dialogue about hot topics and how we can unite to bring more inspiration and good news to the world."
The Church of Scientology of Melbourne holds frequent programs to help bridge immigrant groups of various faiths into the Melbourne community.
And Scientology Churches and Missions in Italy work hand-in-hand with Tibetan leaders to defend the rights of Buddhist children who escaped from their homeland and are living in exile in India.
In his message for the week, Secretary-General Ban Ki-moon said, "World Interfaith Harmony Week celebrates the principles of tolerance and respect for the other that are deeply rooted in the world's major religions."
"Religious leaders are in the forefront of creating positive change throughout the world," said Fabio Amicarreli, who coordinates the social reform initiatives supported by the Church of Scientology. "The U.N. General Assembly created World Interfaith Harmony Week because of 'the imperative need for dialogue among different faiths and religions to enhance mutual understanding, harmony and cooperation among people.' There is no better way to develop the understanding and respect that by working together to better conditions."
Related Media
Tags