Scientology Churches Around the World Promote Freedom of Religion and Belief
In an era of religious repression, terrorism and unconscionable acts of hate playing out in the media, Scientology Churches open their doors on International Religious Freedom Day in the name of peace.
Press Release
-
updated: Nov 14, 2017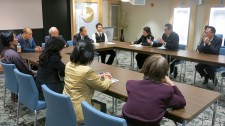 Los Angeles, California, November 14, 2017 (Newswire.com) - Religious Tolerance is a cornerstone of the Scientology religion. The Creed of the Church of Scientology asserts that "all men have inalienable rights to their own religious practices and their performance." 
In an age in which acts of violence polarize people of faith, Churches of Scientology around the world held round tables, forums and conferences on International Religious Freedom Day to bring the community together to reaffirm the importance of religions working together in the name of tolerance and peace. 
International Religious Freedom Day commemorates the passage of the Religious Freedom Act of 1998. Proposed by Virginia Congressman Frank Wolf, it was signed into law by President Bill Clinton. The act established an international religious freedom office in the U.S. State Department and an independent, bipartisan, U.S. Commission on International Religious Freedom, to monitor the state of international religious freedom, make recommendations and support the work of the U.S. Administration and Congress on religious freedom issues. 
From persecution of religious minorities to issues concerning religious worship, beliefs, rites, expression, association, dress, symbols, education, registration and workplace discrimination, religious freedom issues have achieved a prominent place in global headlines. Yet many do not understand what rights fall within the scope of freedom of religion or belief or what the term really means.  
Because the preservation of this right depends upon an understanding of universal human rights principles and international human rights law, the Church of Scientology has published the booklet, What is Freedom of Religion? to make this information readily available. The booklet fully details the right to freedom of religion for believers and religious organizations of every faith.
Source: ScientologyNews.org
Share:
---
Categories: Religion, Human Rights
Tags: Church of Scientology, Freedom of religion or belief, International Religious Freedom Day
---