Scientology Church Honored by Kaohsiung Mayor
Press Release
•
Oct 10, 2016
Kaohsiung City government acknowledged the Church of Scientology for its service to the community.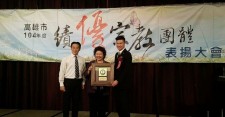 Kaohsiung, Taiwan, October 10, 2016 (Newswire.com) - For the second consecutive year, the Kaohsiung City government recognized the Church of Scientology with its Meritorious Religion Award. Mayor Ju Chen presented the award September 20, with Social Reform Officer Ivan Chuang accepting the plaque on behalf of the Church and its parishioners.
"This is an excellent initiative of the Kaohsiung City government to acknowledge good work being done in the community," said Chuang. "It inspires religious groups such as ours to help society more. We are very active in the community, working with the government, police and schools to educate youth on the danger of drugs and promote human rights awareness and moral education. We are proud to accept this acknowledgement and will continue with our social programs to better society."
The Church of Scientology of Kaohsiung opened in November 2013. Its facilities are configured to provide services to Scientologists in their ascent to spiritual freedom and as a home for the entire community—a meeting ground of cooperative effort to uplift citizens of all denominations.
The Church of Scientology Kaohsiung and Missions of Taiwan have also received the Ministry of Interior Religious Excellency Award for the past 12 years.
Read the article on the Scientology Newsroom.
Source: Church of Scientology