Scientologists Take Action to Reverse Environmental Decay
The Way to Happiness inspires volunteers to ask, "What can I do?"—and take action.
Press Release
-
Apr 28, 2016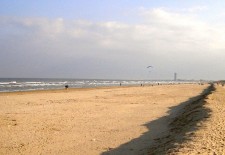 Padova, Italy, April 28, 2016 (Newswire.com) - ​Volunteers from the Church of Scientology of Padova are taking on the care of the Pinarella dunes, a run-down beach area in Cervia, Italy.
On Tuesday April 26 at 3pm they gathered on the dunes to continue their ongoing project of keeping the area clean and green. For the pasts 20 years, members of the Church of Scientology Padova have carried out projects aimed at improving the environment, including projects to collect abandoned syringes.
"We are unwilling to just stand by in the face of escalating environmental degeneration," said the volunteers organizing the project. "It is easy to blame the government, the region, the province... but we believe it is better to do something to resolve the situation quickly, and when something is not right, to ask, 'What can I do?'"
The volunteers are inspired by the precepts of the booklet the Way to Happiness—a commonsense guide to better living written by written by author and humanitarian L. Ron Hubbard.
For more information, visit www.thewaytohappiness.org
Anyone wishing to participate or report areas in need intervention should contact the Church of Scientology Padova.
Source: ScientologyNews.org
Share:
---
Categories: Environmental Protection, Community News, Environmental
Tags: dunes, Environment, The Way To Happiness
---