Scientologists Support Taiwan Campaign to Eliminate Drug Abuse
Press Release
•
updated: Jun 16, 2017
Described by Taiwan's premier as a "grave and growing threat to society," drug abuse is now viewed as a national security issue. Drug education is recognized as a vital aspect of bringing the scene under control. The Church of Scientology provides this service in communities around the country.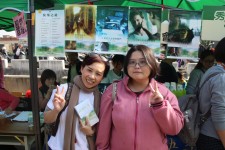 Kaohsiung, Taiwan, June 16, 2017 (Newswire.com) - Citing a Cabinet plan to educate young people about the dangers of drugs, at an inter-ministry meeting last month on combating illegal drugs, Taiwan Premier Lin Chuan described the drug problem as a grave and growing threat to society. More and more new types of drugs are being brought into the country or are being produced locally, he said.
Pointing out that 48 percent of those serving time in Taiwan prisons were convicted of drug-related crimes, the premier stressed the importance of getting to young people before they begin experimenting with these substances.
The Taiwan Scientology community supports this campaign and stands ready to provide award-winning drug prevention material to anyone wishing to educate youth on the truth about drugs. Working in coordination with the public and private sector, Taiwanese Scientologists have been active in drug prevention for more than a decade.
In April, in coordination with the Heng-Chuen police, the Church trained more than 100 volunteers who promoted drug-free living at the annual Spring Scream Music Festival, handing out some 40,000 copies of the Truth About Drugs booklets in Taiwanese. Throughout the year, volunteers carry out drug education in schools, and they participate in street events in their cities to raise awareness of the issue.
Those wishing to be trained to deliver drug prevention lectures or seminars or to order copies of the Truth About Drugs booklets or videos are invited to visit the Foundation for a Drug-Free World. The Church of Scientology and its members support the Foundation, whose Truth About Drugs campaign is one of the world's largest nongovernmental drug education and prevention initiatives. Thanks to this support, the Foundation provides—free of charge—drug education booklets, videos and educator guides to teachers, mentors and civic and community leaders.
According to the United Nations Office on Drug Abuse and Illicit Trafficking, "Every dollar spent on prevention can save governments up to ten dollars in later costs."
Read the article on the Scientology Newsroom.
Source: ScientologyNews.org
Related Media