Scientologists—Standing Up for Human Rights on Human Rights Day 2016
Scientology Churches and Missions around the world commemorate Human Rights Day 2016 by standing up for the rights of others and raising awareness of the UN Universal Declaration of Human Rights.
Press Release
-
updated: Dec 10, 2016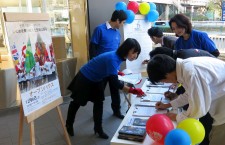 Los Angeles, California, December 10, 2016 (Newswire.com) - In commemoration of International Human Rights Day, Scientology Churches, Missions and groups joined forces with public officials, community groups and concerned individuals to forward the basic principles enshrined in the UN Universal Declaration of Human Rights to protect and defend "the inherent dignity and … the equal and inalienable rights of all members of the human family."  
Adopted by the UN General Assembly on December 10, 1948, the UN Universal Declaration of Human Rights (UDHR), whose 68th anniversary we celebrate today, is a compilation of the 30 essential rights belonging to everyone.
The UN's motto for this year's Human Rights Day, "Stand Up for Human Rights," was the central message of programs carried out by Scientology Churches on six continents.
In Atlanta, Georgia; Buffalo, New York; Cagliari, Italy; and Toronto, Canada; Scientology Churches organized awards presentations to acknowledge community leaders for their work to secure the rights of all.
The Church of Scientology of Milan and the Churches of Scientology in Los Angeles organized benefit concerts to raise funds for programs to increase human rights awareness.
A forum and open house in the Church of Scientology of London targeted domestic abuse of women and children. And in San Diego, one of the key child sex trafficking hubs in the U.S., according to the FBI, the focus is on human trafficking.
In Sacramento, California, it is an overview of the subject called "Human Rights Past, Present and Future." Denver, Colorado, is emphasizing "Freedom of Thought and Expression," and San Francisco spotlights "All are Created Equal."
The Church of Scientology of Rome is launching a human rights awareness project to encourage the exercise of democratic responsibility. A noted alpinist will plant the flag of Youth for Human Rights International in locations where human rights were violated by the country's World War II Fascist regime.
From Mexico City to Melbourne, Tokyo to Tampa, and Berlin to Bogotá, Scientology Churches are holding human rights open houses and organizing human rights walks and marches through their cities carrying banners reading "Stand Up for Human Rights."
In his Human Rights Day message, U.N. Secretary-General Ban Ki-moon said: "Let us recommit to guaranteeing the fundamental freedoms and protecting the human rights of all."
In carrying out this mandate, Scientologists partner with government agencies and nongovernmental organizations throughout the year to bring about broad-scale awareness and implementation of the Universal Declaration of Human Rights, the world's premier human rights document.
The Church of Scientology and Scientologists support United for Human Rights and its program for young people, Youth for Human Rights, whose award-winning educational materials are translated into 27 languages, bringing the message of human rights to 195 nations. Their actions are inspired by the principles expressed by Scientology Founder L. Ron Hubbard who observed, "It is vital that all thinking men urge upon their governments sweeping reforms in the field of human rights."
For more information visit the Scientology Newsroom.
Source: ScientologyNews.org
Share:
---
Categories: Civil Rights, Religion, Human Rights
Tags: Church of Scientology, Human Rights, UDHR, United for Human Rights, United Nations, Universal Declaration of Human Rights, Youth for Human Rights
---