Scientologists Reach Out to Prevent Drug Abuse
Volunteers from the Church of Scientology Kaohsiung bring the Truth About Drugs initiative to the streets, parks and beaches. It is a proactive campaign to prevent drug addiction by reaching local families with drug education and prevention.
Press Release
-
updated: Jul 24, 2018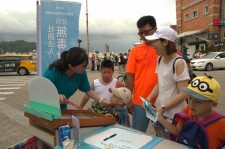 KAOHSIUNG, Taiwan, July 24, 2018 (Newswire.com) - The easiest way to tackle drug abuse is before it begins, say the volunteers of the Church of Scientology Kaohsiung. 
With some 48 percent of all prison inmates convicted of drug-related crimes, the Taiwan government views drug abuse as a national security issue. Last year, the cabinet drafted an action plan to educate young people about the danger of drugs, and the Drug-Free World volunteers of the Church of Scientology fit right into that equation.
Throughout the school year, volunteers from the country's Scientology Church and Missions deliver drug education in schools. And over summer vacation, they continue their outreach.
A team of volunteers from the Church of Scientology Kaohsiung bring their campaign to local festivals, parks and beaches, where they distribute drug education booklets to families and encourage parents and children to sign their drug-free pledge.
According to the United Nations Office on Drug Abuse and Illicit Trafficking, "Every dollar spent on prevention can save governments up to ten dollars in later costs."
The Church of Scientology and its members support the Foundation for a Drug-Free World, a secular nonprofit corporation that empowers youth and adults with factual information about drugs so they can make informed decisions to live drug-free. The Foundation's Truth About Drugs campaign is one of the world's largest nongovernmental drug education and prevention initiatives. As shown on a program on the Scientology TV Network, this support makes it possible for the foundation to provide drug education booklets, videos and educator guides free of charge to teachers, mentors and civic and community leaders.
Source: Scientologynews.org
---
Categories: Philanthropy
Tags: Church of Scientology, Drug Educaiton, Drug Pevention, Scientologists, Taiwan, Truth About Drugs
---