Scientologists Ongoing Campaign to End Drug Abuse in Taiwan
Press Release
•
updated: Oct 24, 2017
Carrying on the tradition that has earned them 14 consecutive annual awards from the Ministry of Interior of Taiwan, Scientologists relentlessly promote drug-free living—because the best time to prevent drug abuse is before it begins.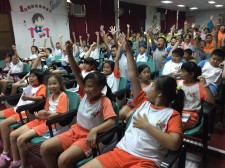 Kaohsiung, Taiwan, October 24, 2017 (Newswire.com) - Living up to their reputation as an "Excellent Religion," volunteers from the Church of Scientology Kaohsiung and the many Church of Scientology Missions of Taiwan continue to carry out humanitarian programs for the benefit of their communities. Throughout the year they volunteer with the Truth About Drugs initiative to create a drug-free Taiwan.
Each week, volunteers conduct drug education lectures in local schools. The program is exceptional because of the way it engages the children on this vital subject, with youth-friendly booklets and award-winning public service announcements and The Truth About Drugs: Real People, Real Stories documentary.
Scientologists also reach out to their communities with information booths in high traffic areas, encouraging people of all ages, but especially youth, to sign their drug-free pledge. Whenever there is a parade or a festival, they join in, dressed in bright turquoise T-shirts and carrying banners that promote drug-free living.
They bring the Truth About Drugs curriculum to government officials and community and religious leaders, encouraging them to train as drug education specialists and carry the campaign forward using their own resources.
In his research, Scientology Founder L. Ron Hubbard noted: "the single most destructive element present in our current culture is drugs."
The Foundation for a Drug-Free World (FDFW) is a secular nonprofit corporation that empowers youth and adults with factual information about drugs so they can make informed decisions to live drug-free. The Church of Scientology and its members support the Foundation for a Drug-Free World, whose Truth About Drugs campaign is one of the world's largest nongovernmental drug education and prevention initiatives. Thanks to this support, the Foundation provides—free of charge—drug education booklets, videos and educator guides to teachers, mentors and civic and community leaders.
According to the United Nations Office on Drug Abuse and Illicit Trafficking, "Every dollar spent on prevention can save governments up to ten dollars in later costs."
Source: ScientologyNews.org
Related Media