Scientologist's Crusade to Bring Human Rights to India and Nepal
Mr. Andrew Chalmers believes education is the key to changing attitudes and bringing about urgently needed human rights reform. He is featured in a Voice for Humanity video on the Scientology website.
Press Release
-
Mar 14, 2016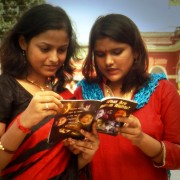 East Grinstead, UK, March 14, 2016 (Newswire.com) - ​The East Grinstead Courier reports this week on a local businessman who is creating urgently needed reform. Andrew Chalmers is the coordinator for the South Asian chapters of Youth for Human Rights, an international charitable organization that helps to educate people on the United Nations Universal Declaration of Human Rights.
Chalmers states that since helping to set up the Indian and Nepalese chapter of the organization in 2009, he has see changes attitudes.
He illustrates the need for this with the example of a woman who came to the organization's office in Delhi. She told the volunteers her husband was abusing her and when they said he is not allowed to do that, and she couldn't believe it.
"She thought it was his right," says Chalmers, "but it's completely illegal. So much of it is a cultural thing. There are a lot of people who just think that's just the way it is. A lot of it is about changing people's mindsets and saying it doesn't have to be that way."
Chalmers, who travels frequently from the UK to India and Nepal, tells the Courier about the extreme gap between rich and poor in these countries and how this shocked him when he first visited the region. Outrageous human rights abuses occur, such as the gang rape and death of a woman on a bus in Delhi in 2012 and a man beaten to death by police after he accidentally crashed his motorbike into the front of an expensive hotel.
"One of my first experiences with the poverty gap was seeing a family of lepers," he says. "They were living on the street in a plastic tent and had lost hands and feet to the disease. In many ways Delhi is a successful, developed city. But there is such inequality right next to wealth and abundance. Working in India and benefiting from it in many ways, I felt I had to give something back."
In addition to the Delhi office, Chalmers has opened offices in Lucknow, India, and Kathmandu, Nepal. And he sees the fruits of is work in tangible change, such as an army colonel in Cashmere, India who asked his group to conduct training to sensitize the troops to human rights. "Before the training, he said soldiers would walk into a village and the children would scatter, but a year later they were playing cricket and football with them," says Chalmers.
Scientologists on six continents engage in collaborative efforts with government agencies and nongovernmental organizations to bring about broad-scale awareness and implementation of the 1948 United Nations Universal Declaration of Human Rights, the world's premier human rights document.
Mr. Andrew Chalmers is featured in a Voice for Humanity video on the Scientology website.
---
Categories: International Law, Charitable Contributions, Human Rights
Tags: Human Rights, India, Scientologist, Scientology a Voice for Humanity
---