Science of Identity Foundation Releases Video on 'Beyond Freedom'
Press Release
•
updated: Dec 10, 2017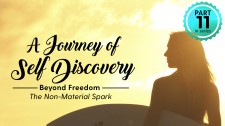 HONOLULU, December 10, 2017 (Newswire.com) - Science of Identity Foundation has released a live webinar series, entitled A Journey of Self-Discovery, which is available for free viewing on its Official Channel here. In this exciting and illuminating multi-part course, Jagad Guru Siddhaswarupananda teaches viewers how to find lasting happiness by understanding the essential nature of the self.
Today's society has taken on an overly materialistic world-view that often neglects the true spiritual "self." The belief that we are material in essence, and that material possessions, power, and fame will satisfy us, is rarely challenged. In this series, Jagad Guru relates the confusion, depression, anxiety, and hopelessness that is so widespread in modern society, to a lack of understanding of the true nature of the self and the deeper purpose of our existence.
Jagad Guru begins this segment of the course, Beyond Freedom: The Non-Material Spark, with a discussion on the topic of genetic engineering. He points out that there are serious ethical concerns with treating human beings as if they are merely complex machines. The key distinction between human beings and robots is the existence of the person or "self."
The topic continues into the next segment, entitled Beyond Freedom: The Search for Truth, in which Jagad Guru talks about how humans have the faculty for spiritual growth — the opportunity to inquire about Absolute Truth. The discussion reveals that humans have something that robots do not — a spark, a spirit, a soul, or what is known in yoga as an atma.
The proof that atma exists can be found in many observable symptoms, but is mainly illustrated in our self-awareness that, "I exist. I am. I'm aware of my existence." Jagad Guru explains that the simple fact that we can question our existence and our life goals sets us apart from robots. The risk of being convinced otherwise — that we are just like advanced robots and don't really have self-awareness — is what puts great power in the hands of those who wish to engineer humankind, as if we are just biological machines.
About Science of Identity Foundation
Jagad Guru Siddhaswarupananda is a world-renowned, self-realized yoga spiritual master who has been guiding students around the world on their quest for truth for over 45 years. He founded the Science of Identity Foundation to serve as a source of information about yoga and spiritual teachings for those seeking enlightenment. Science of Identity Foundation help individuals achieve greater spiritual, mental, and physical well-being. Passed down for centuries, through an unbroken line of self-realized teachers, these ancient and authentic teachings of self-discovery can be practiced by anyone.
More Information about Science of Identity Foundation:
https://sif.yoga/about
https://twitter.com/sif_yoga
http://www.scienceofidentity.org/about
https://www.instagram.com/scienceofidentity
https://soundcloud.com/scienceofidentityfoundation
https://www.youtube.com/user/thescienceofidentity
https://www.facebook.com/thescienceofidentityfoundation​​
Media Contact
Jeannie Bishop
808-367-2633
176773@email4pr.com
Source: Science of Identity Foundation
Related Media
Tags
Additional Links