Science of Identity Foundation Releases Meditation Video Series Titled 'From the Heart'
Press Release
•
updated: Oct 4, 2018
These meditation videos are rich with beautiful scenery accompanied by soothing transcendental sounds giving a deeply relaxing experience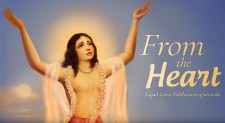 HONOLULU, October 4, 2018 (Newswire.com) - Science of Identity Foundation announces the release of a meditation series titled From the Heart. These five one-hour-long meditation videos are available for free online on the official YouTube Channel for viewing. In each video, viewers can enjoy visually stunning scenic vistas accompanied by beautiful music and the sound of world-renowned yoga spiritual master Jagad Guru Siddhaswarupananda chanting sacred mantras — all of which combine for a heartfelt, meditative experience.
Meditation has been practiced around the world for thousands of years to enhance one's physical, mental and spiritual well-being. Scientists have documented the "relaxation response" that results from meditation and have confirmed that regular meditation can reduce stress and improve physical health. Jagad Guru and Science of Identity Foundation aim to share the many benefits of meditation through these captivating videos.
Each meditation video is rich with beautiful scenery to create a delightful backdrop as one listens to and rests in the soothing transcendental sound vibrations. Pictures of Sri Krishna are shown throughout the video to renew one's focus on the spiritual aspect of meditation. As the visual beauty of the video relaxes the viewer, they will also find their mind and heart calmed by the rhythmic chanting of various mantras. If one chants along, they'll feel the vibrations of spiritual sound penetrate their entire being.
As a person hears the sacred mantras, which enter the heart, they wash away fear, anxiety and anger — and a person's natural spiritual love gradually flourishes. Thus, a person increasingly experiences spiritual love in their heart and becomes free from the influence of negative emotions. With these From the Heart meditations, one can cultivate their inherent spiritual love and thus be able to spread peace and joy to others.
These meditation videos can be used at any time to relax the body and quiet the mind. They can be watched before going to bed, while making dinner or anytime one wants to relieve stress or tap into a deep source of inner peace.
About Science of Identity Foundation
Jagad Guru Siddhaswarupananda established the Science of Identity Foundation in 1977. Jagad Guru is a Vaishnava spiritual master in the disciplic succession known as the Brahma Madhva Gaudiya Sampradaya. This highly respected spiritual lineage extends back over 5,000 years to Lord Krishna Himself. Science of Identity Foundation teaches the practice of meditation and kirtan, along with the timeless yoga wisdom of Vaishnava Hinduism, to help individuals achieve greater spiritual, mental and physical well-being. Passed down for centuries through an unbroken line of self-realized teachers, this ancient and authentic process of self-discovery can be practiced by anyone.
More Information about Science of Identity Foundation:
https://sif.yoga/about
https://twitter.com/sif_yoga
https://soundcloud.com/scienceofidentityfoundation
https://www.facebook.com/thescienceofidentityfoundation
Media Contact
Jeannie Bishop
808-367-2633
176773@email4pr.com
Source: Science of Identity Foundation
Related Media
Tags
Additional Links