Say No to Manual Patient Lifting! Span-America Launches New Ceiling Lift Line
Press Release
-
updated: Feb 20, 2018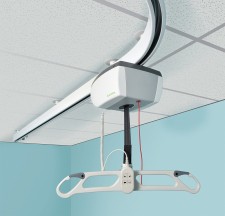 GREENVILLE, S.C., February 20, 2018 (Newswire.com) - Span-America announced it will now offer a portfolio of innovative ceiling lift products to serve both the healthcare facility and home care markets. The new lift offerings are aimed at reducing the risks of manually lifting patients – a need that is growing rapidly as the result of an aging population.
Span's foray into the ceiling lift market came as a joint project with Savaria Corporation, Span's parent company as of June 2017. As a leading accessibility company, Savaria began development of a ceiling lift in 2015, so the marriage with Span's well-established distribution channel and science-driven complementary product lines made for a perfect fit.
Jonathan Benoit, R & D Manager for Savaria, described, "Our goal was to make a better lift that caregivers will love to use. We started with lithium-ion batteries and an optimized transmission to create a fast, powerful and reliable lift that may only need battery replacement after 5 years or perhaps never. Our lifts are free of extraneous bells and whistles, making them easier to use from the first touch."
A host of other benefits are apparent from the thoughtful design approach including the SureClip system with its unique "open-out" design to prevent unintended detachment of the sling to the lift; the FastTrack system with patented installation tool to provide assurance that anchors are securely fastened to the ceiling; and highly adjustable slings so fewer types of slings are needed in healthcare settings, without compromising patient fit or comfort.
The product line includes portable lifts, a free-standing gantry, fixed lifts with the track system, a full complement of hardware for custom installations, and a line of slings. Across all products, purposeful design is reflected with a focus on science, safety, and simplicity.
"We're now about the bed, what's on the bed and what's over the bed, with the addition of ceiling lifts to our product mix. Ceiling lifts extend our ability to deliver positive patient outcomes in the healthcare setting and continuity of care at home," said Clyde Shew, VP Medical Sales, and Marketing for Span.  
"Healthcare institutions know they need to eliminate manual lifting. What becomes important now is choosing lifts that offer a lower cost of ownership and provide a path for easy compliance. Savaria ceiling lifts promise to make good on both of these points – with reliable long-life technology and intuitive simplicity," added Jonathan Benoit.
For the home care market, Savaria lifts offer opportunities for in-home care on a short-term using the portable lift with the gantry, or long term by way of a fixed track system. As more people look to age in place, the easy-to-operate Savaria ceiling lifts can be a significant solution to mobility issues at home.
Span-America will distribute Savaria ceiling lifts through homecare dealers and major healthcare distributors.  More information is available at ceiling-lift.com, or by contacting Span at 1.800.888.6752.
About Span
Founded in 1970 and based in Greenville, South Carolina, Span-America (spanamerica.com) manufactures and markets a comprehensive offering of therapeutic support surfaces and pressure management products for the medical market. Through its wholly owned subsidiary Span Medical Products Canada Inc. ("Span-Canada"), based in Beamsville, Ontario, it also manufactures and markets medical beds as well as related in-room furnishing products for the long-term care market. Span-America also supplies custom foam and packaging products to the consumer and industrial markets. The company became a division of Savaria Corporation in June 2017.
About Savaria
Savaria Corporation (savaria.com) is one of North America's leaders in the accessibility industry. Savaria designs, manufactures, and distribute accessibility equipment, including stairlifts, wheelchair lifts, home and specialized commercial elevators and wheelchair accessible vans. Savaria operates manufacturing facilities in several North American locations, as well as in Huizhou, China.  The company's mission is to provide products that improve mobility for people in the home, in vehicles and in public spaces. Savaria employs some 800 people and distributes through over 400 active dealers. The company is listed on the Toronto Stock Exchange (TSX:SIS).
Media Contact
Joe Benedict, Span-America
1.800.888.6752 ext. 6976
jbenedict@SpanAmerica.com
Source: Span-America
Share:
---
Categories: Healthcare Technology, Nursing, Hospitals and Clinics, Rest Homes and Long Term Care, Home Care, Therapists, Outpatient Care, Rehabilitation and Physical Therapy, Inpatient Care
Tags: ceiling lifts, patient lifts, safety, savaria, science, simplicity, span-america
---