Save $100 on Select Wedding Packages for Small Group Guest Lists, Must See Chicago Wedding Packages, Discounts
Press Release
•
Dec 2, 2014
810 Best Value Wedding Package NOW $100 Off Booked by December 30, 2014. Romantic Suburban Hospitality. 5-Star Pine Manor Chicago A unique wedding venue offering an intimate, home elegance perfect for small guest list of up to 30 or private elopement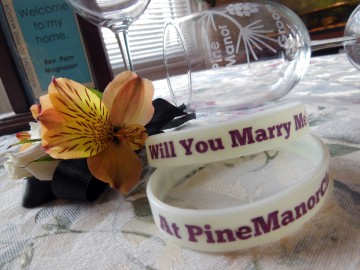 Arlington Heights, IL, December 2, 2014 (Newswire.com) - Dream Wedding at Budget Prices. Chicago's most talked about wedding experience for the small guest list. Rev. Pamela owner and IL Wedding Officiant of Pine Manor Chicago Announces today $100 Dollar Savings on The Best Value Wedding packages. For a limited time, couples can book an amazing 2Hour wedding package with wine toast and cake reception at a hundred dollars off. Reservtions are taken with a $75 dollar deposit and easy payment plans This package is perfect for up to 30 guests.
With 1920's charm and Rev Pam's suburban hospitality, this unique wedding experience is like no other. Located in a legal same-sex marriage state of Illinois, Rev Pam is an interfaith minister who serves her couples according to their unique personalities, belief systems, and desires. The Rev is honored to open her home to perform legal marriages, handfastings, and GLBTQ marriages. Open 8am-8pm CST, Appointments can be made last minutes as a destination wedding chapel or planned ahead of time with packages that includes everything from the wedding invitations, flowers photos to dinner, wedding cake and live band. Overnights are available with guests receiving discounts at partner hotel, Country Inn and Suites by Carlson O'Hare Mount Prospect. Pine Manor is a small wedding venue that includes the Wedding Officiant services, garden weddings are seasonal, Chicago justice of the peace weddings, and courthouse alternative.
Discount Wedding Packages, cheep wedding packages, wedding reception venue with minister, destination wedding packages and affordable Discounts cheap budget wedding venue Dream Wedding At Affordable Prices Group Wedding Packages Wedding venue discounts wedding location deals Simple wedding package Chicago wedding packages

Rev Pamela, Officiant & Proprietor
$100 Off through December 31st 2014
It takes only $75 dollars to reserve your date. Make your wedding reservation for 2015 before December 31st and take $100 dollars off either of these two great packages. Dates are limited and book up fast. This offer can not be combined with other offers. you must call to see if your date and time is available. 847-873-7463
The Best Value Wedding has two packages to choose from. Morning breakfast brunch booked any day between 8am – 10am, or the Best Value wedding and cake reception package. Both regularly priced $810 for 6 guests, the package includes 2 Hours at Pine Manor & The Minister Fees, a digital wedding invitation to eMail to your guests. 1/2 Hr Dressing Time in the honeymoon suite, Custom Ceremony, with summer-time garden ceremony or in front of the historic fireplace, a beautiful Certificate of Commitment, which you will sign for each other, and Ceremony keepsake. Plus DECORATIONS walk down a white carpet, sound system included and one free song download, or bring your ipod. Rev Pam's Add-on Photo Session which includes the digital photo gallery & text message announcement photo sent to your phone. You keep all the proofs uploaded to myphotos.ilweddingofficiant.com , your wedding flowers, a beautiful Wedding Bouquet & matching Boutonnière, Beverage Service with lemonade and Keurig stocked with a variety of coffees, teas, cider, and hot chocolate, A house wine toast with your guests using Pine Manor glasses and a delicious wedding cake to order made by Central Continental Bakery. Served on antique plates and silver.
Whether you want a small, elegant wedding or a fun, spur of the moment elopement, the services that IL Wedding Officiant provides will give you everything that you need to make your special day perfect. Need a ceremony location? Need an Officiant? Pine Manor is a "One Stop Shop, On A Budget!" This unique venue is the Officiant's private home where you can enjoy a garden wedding for up to 30 guests. Or maybe you have a location and need an officiant to come to you- Rev Pam will be happy to travel to your location. Either way, Rev Pam will craft the perfect ceremony that reflects you!
Logon to see hundreds of weddings in our gallery, Brides and Grooms getting married at Pine Manor Chicago, plus dozens upon dozens of 5-star reviews from same-sex and different sex couples who loved this unique, romantic, and affordable experience. Call and book your 2015 wedding date before December 31st 2014 and SAVE! PineManorChicago.com 847-873-7463 8-8pm CST
https://www.youtube.com/watch?v=lEajHoCFuEQ
Select two from each group. Although I do not keep Kosher, and I am not a vegan, I do resect the dietary needs of my couple's and their guests. Most items can be made with Rice / corn pasta as a gluten substitute, or made with meat - free products. Sugarless Options are also available. There maybe a slight up-charge for special products.
Related Media