Savantage Solutions Recertified at CMMI® Level 3 Maturity
Press Release
•
updated: Sep 14, 2017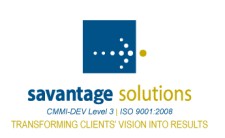 ROCKVILLE, Md., September 14, 2017 (Newswire.com) - Lisa Kazor, CEO and President of Savantage Solutions, announced today that the company has been recertified for the Capability Maturity Model Integration (CMMI®) for Development (CMMI-DEV) Level 3 Maturity rating. CMMI® Level 3 rating for development is a globally recognized industry standard of excellence in software engineering. The company originally achieved CMMI-DEV Level 3 Maturity rating in 2011.
Software application development is a core competency for Savantage. "This recertification maintains Savantage' s position amongst an elite group of business enterprises – it attests to the high standards we maintain in how we manage and execute software development activities," said Ms. Kazor. The CMMI-DEV Version 1.3 (CMMI-DEV, V1.3) at Maturity Level 3 covers processes such as: configuration management, quality assurance, verification and validation, risk management, requirements management, supplier agreement management, integrated project management, technical solution, product integration, project planning and decision making. The Savantage organization was rated at Maturity Level 3 in all process areas for our software development capabilities.
Carnegie Mellon's Software Engineering Institute conducted studies demonstrating that organizations using CMMI-DEV in their process improvement programs achieve improved customer satisfaction, increased quality, more accurate schedules, lower development costs, substantial return on investment and improved employee morale, and reduced turnover. For government agencies using a software development organization with a CMMI-DEV Level 3 Maturity rating, this means substantially lower costs and risks for complex IT projects. By using a CMMI-DEV Level 3 Maturity rated development organization, government customers are more likely to receive high-quality functional software deliverables on time; customers avoid the need for extensive rework and bug fixes after the fact.
###
About Savantage Solutions
Savantage Solutions is a woman-owned small business headquartered in Rockville, Maryland that provides a wide range of consulting, integration, technology and support solutions and services to Federal agencies. A CMMI-DEV Level 3 rated company and an ISO 9001:2008 certified organization, Savantage is a leading provider of software development, business consulting and program management support services. One of only five vendors of financial management systems certified for Federal use, Savantage takes pride in its emphasis on service excellence. For more information, please contact Ayesha Rahman at 301-258-5600 or by email: arahman@savantage.net.
Source: Savantage Solutions