SatcomHQ Launches Registration for Satcom Equipment Dealers and Distributors Worldwide
Press Release
•
Jul 12, 2023
"Achieve Global Market Reach for Both Used and New Satcom Equipment"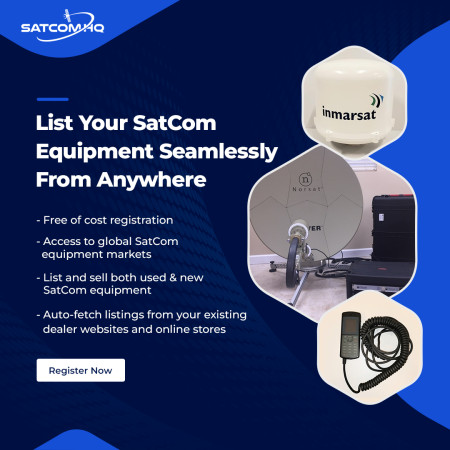 BOCA RATON, Fla., July 12, 2023 (Newswire.com) - SatcomHQ, a leading destination for sourcing reliable satellite equipment, is pleased to announce the opening of registrations for satcom equipment dealers and distributors in their aggregate marketplace. With years of experience and a proven track record of connecting dealers with genuine buyers, SatcomHQ (www.satcomhq.com) has established a global network of authorized dealers, including manufacturers, distributors, sellers, VARs and contractors.
In a bid to facilitate large-scale operations, SatcomHQ offers free registration in their dealer directory. By leveraging SatcomHQ's extensive network, dealers and distributors gain quick access to global markets, while maintaining full pricing control and receiving shipping assistance. Expanding operations with SatcomHQ presents a lucrative proposition for several reasons, including:
Free registration
Global market access: Benefit from SatcomHQ's network to reach satcom equipment markets worldwide.
Complete sales transparency: Gain insights and control over sales through the dealer dashboard.
List used and new equipment
Satellite Phones
Satellite Modems
VSAT Systems
Earth Station Antennas
Satcom-On-The-Move (SOTM) Systems
Satellite Broadcast Systems
Satcom Terminals
Tracking, Telemetry, and Control (TT&C) Systems
Satellite Ground Stations
Satellite Signal Analyzers
Satellite Signal Repeaters
Satellite Signal Encoders/Decoders
Satellite Transceivers
Satellite Navigational Systems
Satellite Imaging Systems
Satellite Data Terminals
Satellite Tracking Systems
Satellite Ground Control Systems
Satellite Power Amplifiers
Satellite Antenna Controllers
Satellite Link Emulators
Satellite Payloads
Satellite Modulation/Demodulation Equipment
Satellite Tracking Antennas
Satellite Signal Monitoring Systems
Satellite Frequency Converters
Satellite Signal Switches
Satellite Video Encoders/Decoders
Satellite Interference Detection and Mitigation Systems
Satellite Gateway Systems
Satellite Network Management Systems
Satellite Bandwidth Optimization Systems
Daily updated inventory: Keep up with market demands and achieve faster time-to-market with SatcomHQ's regularly updated inventory.
Public dealer directory: Enhance visibility and attract potential buyers through the SatcomHQ dealer directory.
Automated listing integration: Listings can be easily imported from existing dealer websites and online stores such as Amazon and eBay.
The satcom industry is experiencing an astonishing compound annual growth rate of 10.4% for the projected period of 2022-2026. Its essential applications in remote communications, telecommunications, navigation and positioning, weather forecasting, rescue operations, military operations, and the logistics industry contribute to its flourishing nature. With the constant need for technological advancements and maintenance in this industry, uninterrupted connectivity and state-of-the-art infrastructure are crucial. SatComHQ bridges the gap between dealers and global buyers by providing a digital platform where quality satcom equipment can be sourced.
About SatcomHQ:
SatcomHQ is a leading sourcing destination for reliable satellite equipment, connecting dealers and distributors with genuine buyers. With an extensive network of authorized dealers worldwide, SatcomHQ offers a comprehensive platform for showcasing and selling both used and new satcom equipment. Their mission is to empower the satcom industry by providing a seamless marketplace experience and facilitating global market reach.
For more information, visit the official website or contact 1-561-295-7000.
Source: SatComHQ