Sarasota Memorial Hospital First in Southwest Florida to Earn Baby-Friendly® Hospital Designation
The international recognition spotlights hospitals that create a care environment and culture that support mother-baby bonding, breastfeeding and best practices in maternity care
Press Release
-
updated: Jan 11, 2018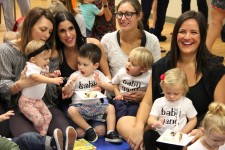 SARASOTA, Fla., January 11, 2018 (Newswire.com) - Sarasota Memorial Hospital is the first hospital in southwest Florida – and among a select group in the nation – to earn international recognition as a Baby-Friendly® Hospital. 
The hard-earned designation comes from Baby-Friendly USA Inc., part of a global initiative by the World Health Organization and United Nations Children's Fund to promote mother-baby bonding, breastfeeding and best practices in maternity care.  
"Earning this designation is not an easy task and reflects our entire hospital team's commitment to providing evidence-based maternity care that prioritizes mother-baby bonding and gives babies the healthiest start in life," said Rene Sueiro, MD, chief of pediatrics at Sarasota Memorial. 
The core tenets of the Baby-Friendly Hospital initiative revolve around creating clinical practices that support mother-baby bonding and infant nutrition and the global initiative's Ten Steps to Successful Breastfeeding aimed at helping mothers leave the hospital with the skills and confidence to continue breastfeeding their baby at home. 
While most parents understand that breast milk contains antibodies that protect babies from diseases and infections and provides them the best nutrition possible, it can be a challenge for some mothers, especially those who have pre-term babies or health conditions or interventions that delay contact between mother and child after birth. 
A key element of the initiative involves providing as much uninterrupted contact between the newborn and family as possible, beginning with skin-to-skin contact immediately after birth, followed by continuous rooming-in with their baby throughout the mother and baby's hospital stay.
"That early contact facilitates a newborn's natural rooting reflex and helps imprint the behavior of looking for and suckling at the breast. It also triggers the production of breast milk, which is critical for breastfeeding success," said Mary O'Connor, manager of Sarasota Memorial's Childbirth Education Services.
For optimal health outcomes, the World Health Organization, U.S. Centers for Disease Prevention and Control and the American Academy of Pediatrics, among other medical associations, recommend babies breastfeed exclusively for six months and continue to breastfeed while eating an age-appropriate diet for at least one year. Babies are not the only ones to benefit from breastfeeding. Studies show breastfeeding mothers experience decreased risk of breast and ovarian cancer, anemia and osteoporosis.
To earn the five-year Baby-Friendly designation, more than 130 nurses in the hospital's Labor & Delivery and Mother-Baby Units received extensive lactation support training, while hundreds more physicians, nurses and staff who help care for childbearing families also received extensive training in the 10 best practices of the Baby-Friendly Hospital Initiative.
Sarasota Memorial delivers more than 3,600 babies each year. With the additional education, resources and support, SMH believes more women will have the information, confidence and skills needed to successfully initiate and continue breastfeeding their babies after they leave the hospital environment. In addition to prenatal education, Sarasota Memorial offers free mother-baby support groups and twice-weekly "latch clinics" to help women experiencing challenges while caring for their baby at home. 
About Sarasota Memorial Health Care System 
Sarasota Memorial Health Care System is a regional referral center offering Southwest Florida's greatest breadth and depth of care, with more than 900,000 patient visits each year. Its flagship 829-bed, acute-care hospital has been consistently recognized as one of the nation's largest and best, with superior patient outcomes and a complete continuum of outpatient services – from urgent care, trauma and emergency services to laboratory and diagnostic imaging, home health, skilled nursing and rehabilitation. Sarasota Memorial is the only hospital in Florida to have consistently earned the federal Centers for Medicare & Medicaid's highest five-star quality award since the rating system launched in 2016.  For more information, visit www.smh.com.   
About the Baby-Friendly Hospital Initiative
Baby-Friendly USA Inc. is the U.S. authority for the implementation of the Baby-Friendly Hospital Initiative ("BFHI"), a global program sponsored by the World Health Organization (WHO) and the United Nations Children's Fund (UNICEF). The initiative recognizes hospitals and birthing centers that offer an optimal level of care for breastfeeding mothers and their babies. There are more than 20,000 designated Baby-Friendly hospitals and birth centers worldwide. Currently, there are 477 active Baby-Friendly hospitals and birth centers in the United States. The "Baby-Friendly" designation is given after a rigorous on-site survey is completed. The award is maintained by continuing to practice the Ten Steps as demonstrated by quality processes. For more information, visit www.babyfriendlyusa.org.
Media Contact: Kim Savage, 941-917-6271 or kim-savage@smh.com
Source: Sarasota Memorial Health Care System
Share:
---
Categories: Healthcare, Children's Issues, Healthcare and Medical News
Tags: baby, best practices, birth, breastfeed, hospital, maternity care, mother, prenatal education, sarasota
---