Sarah's Artistic Studio Introduces 'Pinktober' Collection of Remembrance Jewelry
Customers are excited by the Power of Pink in this new line of remembrance necklaces and ornaments offered at Sarah's Artistic Studio
Press Release
-
updated: Sep 25, 2018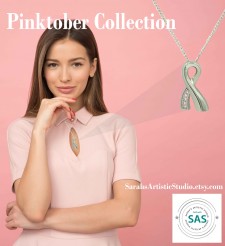 MELBOURNE, Fla., September 25, 2018 (Newswire.com) - Customers are excited by the Power of Pink in this new line of remembrance necklaces and ornaments offered at Sarah's Artistic Studio. As quoted by Sarah Prouty, designer at Sarah's Artistic Studio, "The 'Pinktober Collection' visually communicates passion and dedication in our drive to defeat cancer within our lifetime while remembering those that have fought hard along the way."
Sarah's Artistic Studio is known for their passion in providing jewelry and remembrance pieces that help Keep Your Loved Ones Close – Always.
This collection is sure to invoke memories of the passion that many of us have in fighting all cancers but for Breast Cancer Awareness Month in the U.S., this collection is dedicated to the Power of Pink. These necklaces and ornaments are elegant, timeless and durable … all highly important qualities to Sarah's Artistic Studio customers. And both make thoughtful sympathy gifts to friends and family that have suffered a loss of loved ones or pets.  
Thus, for the first time, Sarah has created an entire product line of remembrance cremation urn necklaces and ornaments dedicated to the Power of Pink. The cremation urn necklaces are designed in recognizable shapes with many adorning a shade of pink crystals to provoke memories that make the person wearing it feel as though their loved one is still with them and comforting them while reminding them of their loved ones' fight and passion for life. Each product can be individually personalized by the designer herself. The new "Pinktober" Collection is scheduled to go live on Oct. 1, 2018.
The collection will be exclusively sold on the website SarahsArtisticStudio.etsy.com where the limited products are scheduled to sell out by the end of the month.
As previously mentioned, all of the products can be personalized. Sarah at Sarah's Artistic Studio hand-stamps each piece as requested in the purchase to truly provide a uniquely designed jewelry piece to be worn or given as a gift. And for the first time, Sarah's Artistic Studio is providing jewelers'-quality custom engraving as an option to personalize items just in time for the holiday gift-giving season.  
Her collection also includes "add-ons" such as Swarovski crystal charms and blank pewter or stainless steel charms that can be added to the necklaces. For her customers, the charms have represented special names or moments in time where the date is so important - be it a birth date, an anniversary or even the date of their loved ones passing. Each personalized add-on charm enhances the piece with memories of their loved one, making the necklace even more unique and special.
Each individual cremation urn necklace has its own unique name. A few examples are:
Mom, So Special So Loved Cremation Urn Necklace
 
Encircled in Love Cremation Urn Necklace
 
The Power of Pink - Pink Ribbon Cabochon Cremation Urn Necklace
 
9 Lives - Pink Cat Memorial Cremation Urn Necklace
 
She Loved to Garden - Trowel Cremation Urn Necklace
The "Pinktober" Collection ranges in price from $25 to $150.
Sarah is excited to welcome her fans to her new customizable product line collection with the capability of engraving they've been requesting.
CONTACT INFORMATION
For more information about the "Pinktober" Collection or for an interview with Sarah, please write to sarahsartisticstudio@yahoo.com. Media high-res photos available upon request.
About Sarah's Artistic Studio
Sarah started designing jewelry after she was faced with a very real problem. When her grandmother passed away in 2004 from cancer, some of the family wanted to keep her close and there was nothing suitable to put her ashes in. All Sarah could find were small wooden vials and even though she was able to personalize them, she felt that it was just not good enough of a vessel to represent the awesomeness and fearlessness of her grandmother. So she started to design jewelry and search for better vessels that were elegant, timeless and durable in the hopes of being able to one day provide others the options of cremation urn jewelry that she didn't have that would represent and honor their loved ones better.
Source: Sarah's Artistic Studio
Share:
---
Tags: always with me, cremation jewelry, family memories, gifts for her, gifts for him, memorial jewelry, ornaments, pinktober, remembrance jewelry, sarahs artistic studio, sympathy gift, urn jewelry
---