Sanders Leaps Past Clinton, Trump Steamrolls GOP Field, in POTUSpalooza 'Gameplay Poll'
Outsider candidates are riding high, but vote totals change rapidly in the patent-pending POTUSpalooza "gameplay poll" -- the world's first poll powered by iOS gamers
Press Release
-
Feb 29, 2016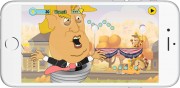 Los Angeles, CA, February 29, 2016 (Newswire.com) - ​​​​​​​​​Vermont Sen. Bernie Sanders has raced out to a commanding lead over rival Hillary Clinton on the eve of Super Tuesday voting, according to the latest POTUSpalooza Poll data.
On the GOP side, unlikely front-runner Donald Trump is a huge favorite to continue his historic march to the Republican nomination.
Through late Sunday, Sanders held a 62.5% vs. 37.5% lead over the former Secretary of State.  Trump led the GOP with 48%, followed by freshmen Sens. Marco Rubio (19%) and Cruz (16%.)
Unlike tradition or social media polls, the patent-pending POTUSpalooza gameplay poll is powered by casual iOS gamers.  Gamers select the candidate of their choice, then run, jump and spin past a gauntlet of enemies and obstacles in the pursuit of votes.  Every vote earned in the game, counts for the player's candidate.
"When you first play POTUSpalooza -- and see Trump battling LadyParts or Zeppelin-flying billionaires dropping moneybombs on Bernie – you should laugh," said game creator Kevin Colligan. "POTUSpalooza has 237% more shenanigans than the average casual game, so you should be amused.  But that's not all there is to it."
"Bottom line:  We're measuring engagement," Colligan continued.  "With a gameplay poll, people don't just mindlessly click a poll option, or 'Like' something barely glanced. POTUSpalooza makes would-be voters prove their commitment to their candidate through 16 levels of thumb-punishing, cartoonish, political violence."
The POTUSpalooza Poll is updated in real-time -- as the game is played -- and data is instantly available within the free POTUSpalooza game app for iPhone and iPad.
Download POTUSpalooza for free from the App Store:
https://itunes.apple.com/us/app/potuspalooza-primaries/id1078099338?ls=1&mt=8
ABOUT POTUSpalooza
POTUSpalooza is a FREE iOS game for iPhone and iPad (download: http://www.bit.ly/potuspalooza.)   Players select a candidate and vie for votes while avoiding obstacles and enemies including TeaBaggers, GunNuts and the Koch Brothers (vs. Democrats) or AmnestyTacos, LadyParts and BigScience (vs. Republicans.)
POTUSpalooza was recently featured on the front-page of ProductHunt.com and was the most popular game of the day on Feb. 24.
POTUSpalooza is a production of KevCol Labs LLC, the new gaming company founded by longtime Internet executive Kevin Colligan.  Colligan is the former digital media head for the Grammy Awards, was an executive for Major League Baseball Advanced Media and worked for a variety of sports, news and entertainment organizations.
Colligan says a political comedy videogame/poll engine was the obvious culmination of his many years of media and technical experience and education.
"On the one hand, we're all watching, mouths agape, as the world's greatest democracy melts down," Colligan said. "On the other, this Trump guy is providing some really fun material."
FOR MORE INFORMATION OR INTERVIEW REQUESTS, PLEASE CONTACT:
Kevin Colligan
Founder, KevCol Labs LLC
310-361-6872
kevcol@kevcollabs.com
http://www.bit.ly/potuspalooza
https://twitter.com/potuspalooza
Share:
---
Categories: Video Games, Elections, Comedy
Tags: 2016, Bernie Sanders, Donald Trump, election, Hillary Clinton, Marco Rubio, POTUS, president, presidential, Ted Cruz, videogame
---