Samtec's EXTreme Ten60Power™ System Available With Higher Density and AC Power Options
Extreme Power/Signal System with up to 60 A/Blade and a Low 10 mm Profile.
Press Release
-
updated: Feb 20, 2018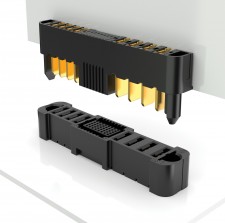 NEW ALBANY, Ind., February 20, 2018 (Newswire.com) - Samtec has released a higher density signal count and new AC power option available with the EXTreme Ten60Power™ system.
Samtec's EXTreme Ten60Power™ header and socket system (ET60T/ET60S Series) is available in both power/signal combinations and power only for increased design flexibility. The new 5-row signal option allows for up to 40 positions in the same form factor as the 3-row option. For higher density without the need for additional space, the 5-row design features a 2.00 mm pitch, versus the 3-row on a 2.54 mm pitch.
The new AC power option provides greater flexibility to this modular EXTreme Ten60Power™ system, which is configurable to meet most application specifications. AC power blades feature a 7.50 mm pitch to accommodate higher voltage levels, while DC power blades are on a 5.50 mm pitch to carry a lower, more constant voltage level. Additionally, the power blades can be selectively loaded to achieve any specific creepage and clearance requirements.
The EXTreme Ten60Power™ family delivers high current power performance to 60 A per power blade with a low 10 mm profile design for enhanced system flow. Symmetrical or asymmetrical power configurations are available, as well as AC and DC combinations. A split power option is in development. This system features a hot swap option and is rated for a maximum voltage of 250 V.
The through-hole, right angle terminal, and socket are ideal for coplanar applications. The socket also is available in a vertical orientation for perpendicular mating and optional press-fit tails for ease of board termination. Rugged guide posts are standard and assist in blind mating. A top guide post is in development for additional board space savings.
Samtec's line of power products includes PowerStrip™ available in three product levels differentiated by size and power output: PowerStrip™/35, PowerStrip™/25 and PowerStrip™/15. In addition, the PowerStrip™ family includes power and power/signal combination discrete wire cable systems, power and power/signal combinations in right-angle and vertical orientations, as well as a hinged system and press-fit termination for board level applications.
Please visit Samtec's EXTreme Ten60Power™ web page for more information about EXTreme Ten60Power™ products, or try the parametric search in Samtec's online Solutionator® tool to find products that meet specific creepage and clearance specifications.
EXTreme Ten60Power™ is a trademark of Molex Incorporated and is dual sourced by Molex®
About Samtec, Inc.
Founded in 1976, Samtec is a privately held, $713MM global manufacturer of a broad line of electronic interconnect solutions, including IC-to-Board and IC Packaging, High-Speed Board-to-Board, High-Speed Cables, Mid-Board and Panel Optics, Flexible Stacking, and Micro/Rugged components and cables. Samtec Technology Centers are dedicated to developing and advancing technologies, strategies and products to optimize both the performance and cost of a system from the bare die to an interface 100 meters away and all interconnect points in between. With 33 locations in 18 different countries, Samtec's global presence enables its unmatched customer service. For more information, please visit http://www.samtec.com.
Samtec, Inc.
P.O. Box 1147
New Albany, IN 47151-1147
USA
Phone: 1-800-SAMTEC-9 (800-726-8329)
Source: Samtec
Share:
---
Categories: Business Technology, Electronics, Engineering, Microprocessors, Electrical and Electronics
Tags: Edge Card Connectors, High Speed Edge Card Connectors, HSEC8 Series, MEC5 Series, Samtec
---