Samantha Jae Launches the Wanderlust Collection, Raising the Bar for Handcrafted, Wooden Home Decor.
Press Release
•
Oct 11, 2016
10-piece line is expected to sell out, as art is offered in limited quantities, elegantly pulling the wilderness into customers' homes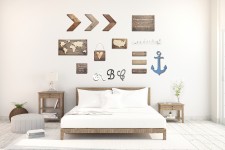 LOGAN, UTAH, October 11, 2016 (Newswire.com) - ​​​​​For Samantha Nelson, the creator of Samantha Jae, wanderlust has been a feeling she's lived with for years. "Sometimes it feels claustrophobic, being stuck at home with kids all day; and I desperately want to get out, go exploring, and travel some place far away." This sense of wanderlust is what fueled Samantha to create her newest collection. "I wanted to bring the wilderness into people's homes, so they could satiate that urge for adventure and travel."
At Samantha Jae, Nelson herself designs, cuts, and finishes each unique piece, giving every curve precise attention. "People look at me in the lumber yard like I'm insane. I'll spend several minutes with every board, holding it out like an arrow to check for warping or any nasty knots. I like to scope out each board for a long-term relationship, so it takes me a while to find 'the one.'" From a simple board in the lumber isle, Nelson's designs come to vibrant life as she cuts and carves them into artwork intended to be hung anywhere.
I wanted to bring the wilderness into people's homes, so they could satiate that urge for outdoor adventure.

Samantha Nelson, Owner/Designer
That designer artwork is part of what sets Samantha Jae apart from the rest. With a foundation of beautiful designs, quality craftsmanship and stellar customer service are the company's primary objectives. Her five-star average and rave reviews from her customers is something Nelson intends to maintain at all costs. "I just couldn't stand it if a customer were anything less than ecstatic about her order. I put my perfectionism to work with every piece I send out so that my customers will love it!"
Ecstatic customers are exactly what is to be expected from Nelson's newest collection. This 10-piece product line will feature rich, dark, wood grain, contrasted with raw, natural carvings. Bringing some adventure into people's homes is only one goal of the collection, as is creating a warm and rustic atmosphere. The Wanderlust Collection will range in products from solid wood arrows, chevrons, and maps, to engraved adventurous quotes and custom lettering. Every piece in the collection is made with meticulous care, and as such, quantities available will be limited and expected to sell out quickly.
To learn more about Samantha Jae, visit www.samanthajae.com and subscribe at http://eepurl.com/bZmkvj to become a VIP member, where unadvertised flash sales, giveaways, and discounts will be showered upon "cyber-besties." The Wanderlust Collection will be launching on October 18th.
About the Company: Samantha Jae creates handcrafted wooden wall decor to a backdrop of the beautiful Rocky Mountains of Northern Utah. Precise care is taken with each and every piece, from design to finished product. Pieces are sent around the entire globe, and have been featured in homes and businesses spanning San Diego to Dubai. The company offers both uniquely designed wall art as well as custom cut projects to fit perfectly with any style or business.
Source: Samantha Jae LLC
Related Media
Tags
Additional Links