Saint Paul Brewery's 'Hopcromancer' Nominated for USA Today's 10Best Beer Label
Press Release
•
updated: Mar 4, 2020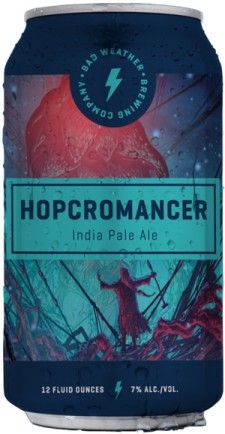 SAINT PAUL, Minn., March 4, 2020 (Newswire.com) - Bad Weather Brewing Company, a local Saint Paul brewhouse and taproom, was nominated by USA Today's 10Best Readers' Choice award for their Hopcromancer beer label design. A year-round local favorite, this IPA-style beer is dry-hopped twice to produce its satisfying, juicy citrus flavors.
Each year, USA Today asks its panel of beer experts to nominate 20 showstopping beer labels that spark curiosity among patrons and thoughtfully represent the unique attributes of the beer contained within each can. Once the 20 beer labels are selected, the contest brings the final decision to its readers, who are asked to vote for their favorite beer label each day, with a max of one vote per label.
Hopcromancer was selected for its label design based on its "evocative artwork" that "shows us a sorcerer summoning a giant hop flower to add juicy citrus flavors to this twice dry-hopped brew," (USA Today).
Artwork for the IPA was illustrated by Lucas Gluesenkamp, a Minnesotan designer. Beer label design and branding strategy were created by Brandography, a digital marketing agency in downtown Minneapolis that has been helping the brewery rebrand its unique can designs since 2018.
Fans of Hopcromancer are encouraged to vote for this IPA can design each day, until final polls close on Tuesday, March 17, at noon, EST. The 10 lucky winners will then be announced to the public on Friday, March 27, 2020.
Patrons are invited to visit Bad Weather Brewing's taproom, located at 414 7th St W, St Paul, MN, 55102, to taste Hopcromancer and other popular Bad Weather beers on tap! Cans of Hopcromancer and its USA Today's nominated label design are also available at certain retailers located throughout the Twin Cities.
About Bad Weather Brewing Company
Bad Weather Brewing is a 20-barrel brewhouse and taproom that offers Twin Cities patrons a blend of good vibes, great service, and consistent taste from its diverse selection of beers. From traditional lagers to sour ales, the brewery continually rotates its selection of well-crafted beers to keep friends coming back despite bad weather.
Source: Bad Weather Brewing Company