Safety Training Seminars Opens a CPR Certification School in Oakland, California
Press Release
•
Sep 25, 2023
American Heart Association CPR Certification School Opens in Oakland, California. This School Will Provide CPR, BLS, ACLS, PALS, and First-Aid Certification Courses to the Residents of Alameda County.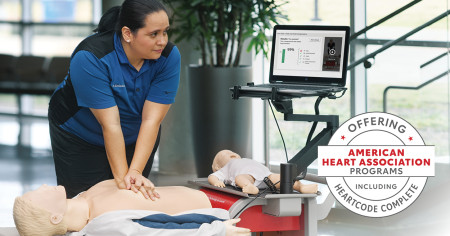 OAKLAND, Calif., September 25, 2023 (Newswire.com) - Safety Training Seminars, an official American Heart Association© (AHA) Training Center in Alameda County, is proud to announce the opening of its Oakland CPR Training School at 154 Santa Clara Avenue, Oakland, CA 94610. The new CPR training center is centrally located, making it easily accessible to healthcare professionals in Alameda County. The office is open every day of the week and courses are offered to the public during regular business hours.
Safety Training Seminars' new Oakland CPR Training School offers a comprehensive range of courses for medical professionals, including CPR, BLS, ACLS, and PALS. Each course provides an innovative blend of online learning resources and on-site skills testing, ensuring that participants are fully prepared to handle life-threatening emergencies. After the training, students will immediately receive the official American Heart Association certification card.
ACLS Courses offer initial and renewal certification in American Heart Association Advanced Cardiovascular Life Support, providing participants with the skills and knowledge needed to respond to cardiopulmonary arrest or other cardiovascular emergencies.
CPR and First-Aid Courses are designed for a wide variety of participants, such as teachers, babysitters, childcare care providers (EMSA), supervisors, and more. Students will learn the proper techniques for administering CPR to infants, children, and adults, as well as how to use AEDs, treat bleeding, respond to seizures, and more. After completing the course, all students will receive the official American Heart Association CPR and First-Aid certification.
BLS CPR Courses provide new and renewal certification, helping attendees identify and respond to life-threatening emergencies. After attending this course, students will receive the official American Heart Association BLS certification card, which is valid for two years. Safety Training Seminars offers the lowest prices in the Bay Area, backed by its low-price guarantee.
Group Discounts are available to those clients who want to offer a CPR and First-Aid class for their employees at their location. The classes can be taught on site anytime on any day of the week. Ask about our group discounts.
Safety Training Seminars has been providing crucial courses for certification and lifesaving training since 1989. The woman-owned company has 45 locations across Northern California, and it offers the most affordable, flexible training, with the latest resources and equipment. With its new Oakland CPR office, Safety Training Seminars is committed to equipping Alameda County residents with the skills and confidence to react quickly in emergency situations. To learn more about CPR and First-Aid training in Oakland and other locations across California, visit cprclassesoakland.com.
Source: Safety Training Seminars