Ryan Peacock, Inc. Dba RPI Announces Ash Debris & Removal Services for Property Owners Affected by the Northern California Wildfires
As a result of damages left behind by the Northern California wildfires, RPI will provide property cleanup services to members of the community with fire damaged homes and businesses.
Press Release
-
updated: Nov 7, 2017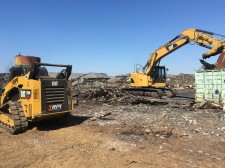 SAN JOSE, Calif., November 7, 2017 (Newswire.com) - RPI, a leading Environmental Remediation Services contractor based in Santa Clara, California is providing information to homeowners and citizens of Santa Rosa, Napa, Sonoma and surrounding areas that have had homes or structures damaged by the Northern California wildfires. In addition, RPI is currently scheduling Debris and Ash Removal Services to those in need.  
RPI INC's team is HAZWOPER trained and certified to perform Debris and Ash Removal Services (CSLB A/B/HAZ/ASB 999399). RPI's experience spans 32 years in providing HAZMAT Response, handling of waste removal, transportation, and debris clearing and cleanup, for small to large homes and structures as well as non-residential dwellings.
"It is very important for those residents affected by these fires to be completely informed about how to safely & properly clear their properties of debris and ash and possible hazardous debris," said Mr. Ryan Peacock, CEO of RPI. "Should you decide to hire a private contractor that contractor should be properly licensed and strictly adhere to all regulatory requirements including submission of the required Debris and Ash Removal Work Plan."
Homeowners/property owners will need to choose one of the following options for their cleanup efforts.
1) Private Removal – Homeowners / property owners can opt to secure clean up services on their own and request reimbursement by their insurance companies directly. A qualified contractor, like RPI, will need to comply with the ash and debris work plan and state and government licensing requirements. By selecting a private contractor, cleanup services may include disposal of trees, shrubs, or other non-structural elements. The cleanup efforts included by the government aren't guaranteed to those additional elements. RPI can provide all services in conjunction with Debris and Ash Removal Services or a la carte based on customer needs.
2) Government Removal - Participate in a State Sponsored Waste Consolidation Debris Removal Program
https://storage.googleapis.com/proudcity/sonomarecoversca/uploads/2017/11/Management-of-Sonoma-County-Fire-Packet.pdf
http://www.countyofnapa.org/Pages/Content.aspx?id=4294989849&ekfxmen_noscript=1&ekfxmensel=ee071494b_38_4294967474
RPI'S contracting services include:
- Ash Debris Removal, Clearing & Disposal
- Hazardous Hauling (Household Hazardous Waste)
- Lead Paint Stabilization and Remediation
- Asbestos Abatement & Demolition Coordination
For more information, please contact us at 800.916.4322 or email Jason Flores, Environmental Program Manager, at jason@ryanpeacock.net. Our website is www.hirerpi.com.
RPI is located in Santa Clara, CA; RPI provides catastrophe services nationwide in the areas of hazardous remediation, structure drying, commercial fire damage remediation, demolition, renovation, painting, environmental consulting, and heavy equipment logistics.
Source: Ryan Peacock, Inc.
Share:
---
Categories: Emergency and Disaster Relief, Safety, Local News
Tags: ash, california, contractor, disposal, Environmental Cleanup, fire damage, fire restoration, Hazardous, napa, property, remediation, restoration, santa rosa, soil, sonoma, Wildfire, wildfires
---