Running to Promote Drug-Free Living
Press Release
•
updated: Mar 25, 2018
Drug-Free World Runners team raised more than £1,000 on the Endurancelife half- marathon through the South Downs National Park.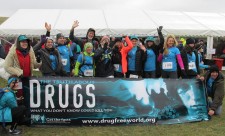 EAST SUSSEX, England, March 25, 2018 (Newswire.com) - With the aim of educating teenagers about the dangers of drugs, the Sussex Project Drug-Free World Runners ran the Endurancelife half-marathon March 17 to fund their drug prevention activities. They not only raised more than £1,000 through crowdfunding, they also had an unforgettable morning.
They followed the course along the magnificent Seven Sisters chalk cliffs and Beachy Head with spectacular views of the sea. It was a cold, very windy and sometimes snowy run through one of the most beautiful and longest stretches of undeveloped coastline of England's south coast. Combined with the uphill course and stiff headwind, the race was a definite challenge for all concerned.
The importance of their drug prevention activities is highlighted by the report by the BBC only two days before the race:
Those dying from opioid-related drug misuse has reached a record high in England and Wales
More than two million working age people in England are estimated to have taken a prescription painkiller that was not prescribed for them in 2016-17
GPs in England prescribed 23.8 million opioid-based painkillers in 2017, the equivalent of 2,700 items every hour
This was 10 million more prescriptions than in 2007.
The Drug-Free World volunteers organize seminars in schools and distribute Truth About Drugs booklets to reach youths with factual information about what drugs are and what they do before they begin to experiment with harmful substances.
The Church of Scientology and its members support the Foundation for a Drug-Free World, a secular nonprofit corporation that empowers youth and adults with factual information about drugs so they can make informed decisions to live drug-free. The Foundation's Truth About Drugs campaign is one of the world's largest nongovernmental drug education and prevention initiatives. Thanks to this support, the Foundation provides drug education booklets, videos and educator guides free of charge to teachers, mentors and civic and community leaders.
According to the United Nations Office on Drug Abuse and Illicit Trafficking, "Every dollar spent on prevention can save governments up to ten dollars in later costs."
Source: ScientologyNews.org
Related Media