Running and Biking for a Drug-Free Country
13th annual drug-free Czech Republic "Cyclo-Run" gathers support for drug-free living.
Press Release
-
Aug 9, 2016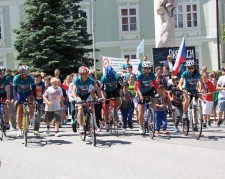 PRAGUE, CZECH REPUBLIC, August 9, 2016 (Newswire.com) - Members of the Czech Republic chapter of the Foundation for a Drug-Free World ran and bicycled through the country on their 13th annual "Cyclo-Run"—a term coined to convey the spirit of the initiative in which drug-free athletes crisscross the country for two weeks every summer to promote the truth about drugs.
In towns and cities throughout the nation, mayors and other elected officials signed the Foundation's Drug-Free World pledge and endorsed the campaign, praising it for helping to decrease the local drug problem.
The volunteers made good use of their time. They conducted 55 lectures to 2,300 children in 26 schools, distributed some 10,000 fliers and 30,000 drug education booklets, and broadcast their drug-free message through 20 TV and radio shows.
One school asked for a series of drug education programs in the fall, which the volunteers agreed to provide. In another town a local policeman was so taken with the program he signed on to be a member of the Cyclo-Run team next year.
The Foundation for a Drug-Free World is a nonprofit public benefit corporation that empowers youth and adults with factual information about drugs so they can make informed decisions to live drug-free.
The Church of Scientology supports the Foundation for a Drug-Free World, one of the world's largest nongovernmental drug education and prevention campaigns.
It has been conclusively proven that when young people are provided with the truth about drugs—factual information on what drugs are and what they do—usage rates drop commensurately. 
Read the article on the Scientology Newsroom.
Source: ScientologyNews.org
Share:
---
Categories: Non Profit, Addiction, Community Standards
Tags: Cylco-Run, Czech Republic, drug education, drug prevention, Foundation for a Drug-Free World
---