RTEAM Announces 3rd Annual Florida Fin Fest: Uniting Ocean Conservation, Education, and Music in Jacksonville Beach
Press Release
•
Jun 13, 2023
The festival features Grammy-nominated artists Tank & The Bangas, and Cimafunk alongside an array of ocean conservation experts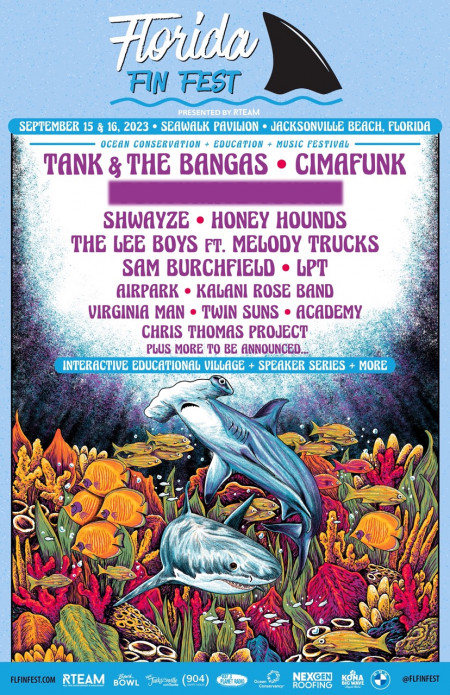 JACKSONVILLE BEACH, Fla., June 13, 2023 (Newswire.com) - Florida Fin Fest is delighted to announce its highly-anticipated return on September 15th and 16th, 2023. This free, two-day festival, held in Jacksonville Beach, Florida, promises to be an unforgettable experience filled with education, music, and a deep appreciation for our oceans.
At the heart of Florida Fin Fest is a commitment to raising awareness about ocean conservation. This event brings together individuals, organizations, and experts from around the globe to highlight the importance of preserving our marine ecosystems for future generations. By combining education, entertainment, and community engagement, Florida Fin Fest creates a unique platform for environmental stewardship.
Prepare to be captivated by an incredible lineup of musical talent set to grace the stage. Grammy-nominated artist Tank & The Bangas, Grammy-nominated Latin artist Cimafunk, and billboard-charting artist Shwayze, amongst 15 additional acts, will provide an unforgettable soundtrack to the festival. From soulful melodies to infectious beats, the music at Florida Fin Fest is sure to delight attendees of all ages.
In addition to the incredible musical performances, Florida Fin Fest offers an immersive educational experience. The Educational Village, presented by the esteemed Ocean Conservancy, will feature engaging activations from prominent institutions such as M.O.S.H, The Georgia Aquarium, Jacksonville University, OCEARCH, and others. Attendees will have the opportunity to learn about marine life, conservation efforts, and sustainable practices through interactive exhibits, workshops, and hands-on activities.
"All of us at OCEARCH have enjoyed Florida Fin Fest over the past couple of years and with the action around the new OCEARCH Global Headquarters at Jacksonville University in Mayport heating up this year, the event proves to be more exciting than ever. We look forward to having our team there to celebrate our ocean and together push for a balanced and abundant future for our grandchildren." - OCEARCH Founder & Expedition Leader, Chris Fischer.
Furthermore, the festival proudly presents a captivating Speakers Series on Conservation Topics, hosted on the Blue Jay Listening Room Stage. Highly regarded speakers and experts in the field will delve into pressing environmental issues, share insights into marine conservation, and inspire attendees to take action. From thought-provoking discussions to eye-opening presentations, the Speakers Series promises to be a highlight of Florida Fin Fest.
Florida Fin Fest 2023 invites all ocean enthusiasts, conservation advocates, and music lovers to join us in celebrating our beautiful oceans. Together, we can make a difference and ensure a sustainable future for all.
For more information, please visit the official Florida Fin Fest website at www.flfinfest.com. Stay connected and receive updates by following us on social media @flfinfest.
Source: Florida Fin Fest