Royal Biologics Launches Maxx-Cell, the World's Most Advanced Bone Marrow Aspiration Device
Maxx-Cell has created a new gold standard in bone marrow aspiration therapy.
Press Release
-
updated: Jun 18, 2018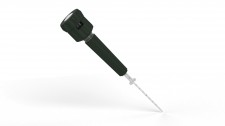 JERSEY CITY, N.J., June 18, 2018 (Newswire.com) - Royal Biologics, an ortho-biologics company specializing in the research and advancement of regenerative cellular therapy, has launched Maxx-Cell, the world's most advanced bone marrow aspiration device. Maxx-Cell has created a new gold standard in bone marrow aspiration therapy for uses in orthopedics, sports medicine and pain management.
The Maxx-Cell system maximizes stem and progenitor cell yield by giving the clinician the ability to efficiently harvest bone marrow from multiple levels within the medullary space, while restricting dilution of peripheral blood. Unlike traditional needles, which produce excess peripheral blood contamination, Maxx-Cell delivers the highest, most pure enriched form of bone marrow aspirate without the need for centrifugation because it restricts the dilution of peripheral blood.
"Stem, mesenchymal and progenitor cells are now easily and effectively obtained with this breakthrough device," says Salvatore Leo, CEO of Royal Biologics. "Autologous stem cell therapy is now streamlined with this new device. We also provide a newly enhanced accessory kit that include that includes filtering options, iodine, drapes and scalpels, making the world's first stem cell therapy kit for any clinical setting."
With Maxx-Cell clinicians can reduce the cost of utilizing high-priced biologics while delivering better regenerative solutions as compared to other industry solutions. Maxx-Cell can be used in a wide array of clinical settings including both in-patient and outpatient procedures.
"We are very excited to add Maxx-Cell to our portfolio of regenerative medicine and fusion based orthobiologic products," says Leo. We believe that with Maxx-Cell, we provide the greatest ability to harness the bodies autologous stem cells for multiple uses in orthopedics and pain management. We also believe that in a cost conscience industry we can provide the most live viable cellular product, point of care for a fraction of the cost of other premium live cellular-based products."
To learn more about Maxx-Cell as well as more about the range of regenerative medical products offered by Royal Biologics, visit RoyalBiologics.com.
About Royal Biologics
Royal Biologics is a life science company specializing in the advancement of regenerative medicine using proprietary technologies targeting point of care autologous stem cell therapies. To learn more, visit RoyalBiologics.com.
Source: Royal Biologics
Share:
---
Categories: Healthcare
Tags: biotech, medicine, Regenerative, StemCell
---