Ross Cleaning & Restoration Inc. Announces Website Launch, Expanded Online Presence
Press Release
-
updated: Feb 12, 2018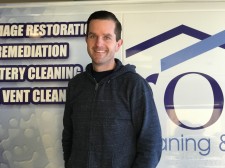 FORT WAYNE, Ind., February 12, 2018 (Newswire.com) - Ross Cleaning & Restoration, Inc. has announced the launch of its new website, which is designed to provide the company with an expanded web presence to better serve commercial and residential customers in the Fort Wayne area. The upgraded site was formally launched earlier today.
The new website provides potential customers with an even more informative look at Ross Cleaning & Restoration's award-winning services, using a clear, professional design. The company's service pages are separated to ensure that customers get access to all the important details they require to make an informed decision about their cleaning needs.
Those individual service pages cover Ross Cleaning & Restoration Inc.'s fire damage restoration services, as well as services that clean up and restore homes and businesses that have experienced damage from water or mold. Other service pages cover Ross' carpet cleaning, duct cleaning, and tile and upholstery services.
Ross Cleaning & Restoration owner Adam Ross stressed the importance of providing customers with timely information that can help them in their decision-making process. He described an instance where he was called in to help a client in the aftermath of flooding damage: "As a first responder to her emergency, I instantly knew that she was scared and in need of assistance. I explained everything that she needed to know and walked her through her options – from A to Z. That allowed her to make the right decision for her needs and helped to put her at ease."
"I take great pride in being able to provide that type of comfort to every client I service."
In addition to detailed information about the company's various service offerings, the website also offers convenient online scheduling. Customers can choose from a menu of different cleaning and restoration needs, obtain estimated pricing for those services, and schedule their service date and time. There is even an option to schedule customized services, for clients whose needs don't fit neatly within the quoted service offerings.
According to Ross, the website may be new but Ross Cleaning & Restoration, Inc. will continue to do what it has done for more than a decade: provide customers with prompt, effective, and reliable cleaning and restoration services for their commercial and residential property needs. The company's owner said that he remains committed to fighting for his customers' needs.
"Several years ago," he said, "I realized that many insurance companies just weren't interested in doing the right thing for their clients. They would tell me to do things that simply weren't the right option for my customers' needs. I had two choices: either do what the insurers said and go with the flow or do what's right for the customer and fight to get them what they need. I chose the latter option and will continue to fight on my customers' behalf for as long as they need me."
About Ross Cleaning & Restoration, Inc. and Adam Ross:
Adam Ross comes from a family of entrepreneurs, who helped instill in him an appreciation of the value of hard work. His own entrepreneurial efforts began at the tender age of 5 years old, selling popcorn to people at the local mall. After high school and a semester of college, he realized that his true passion was to work with and for people. He went to work with Stanley Steamer for a time, and then eventually launched his own cleaning business in 2007: Ross Cleaning & Restoration.
Initially focused on carpet cleaning, Ross Cleaning & Restoration, Inc. grew to add new services as it evolved over time. Today, Ross provides effective cleaning for carpets, ducts, tiles and upholstery, and damage from fire, water, and mold. The company uses a select array of proprietary products, carefully chosen after testing thousands of different cleaning solutions. That commitment to excellence and dedication to full customer service is the reason why Ross customers routinely recommend the company's services to their friends and loved ones.
For more information please visit:  https://rossrestoration.com/
Media contact
Name: Adam Ross
Email: Contact@rossrestoration.com
Phone: (260) 625-6677
Source: Ross Cleaning & Restoration, Inc.
Share:
---
Categories: Community News, State News, Suburban Living, Home Repair, Home, News
Tags: cleaning, cleaning and restoration, restoration, water damage restoration
---