Rosarium Acquires SciFi Fantasy Taty Went West by Nikhil Singh
Press Release
-
updated: Jan 17, 2017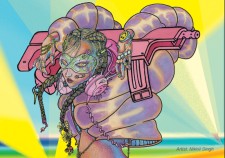 Greenbelt, MD, January 17, 2017 (Newswire.com) - ​Bill Campbell, founder of award-winning Indie house Rosarium Publishing, announced today that the company will be publishing Taty Went West, the critically-acclaimed fantasy debut novel by South African born writer, artist, and musician Nikhil Singh for the North American market. The rights were acquired from Sarah Such of Sarah Such Literary Agency, London, UK.
The story is the first in a trilogy of what Singh describes as "Alice in a necrotic Wonderland" and follows Taty, a teenage girl who is forced to run away from home and escape to The Outzone, who discovers along the way that she has extrasensory powers. She finds herself kidnapped and dropped into a world filled with a motley cast of eccentric characters, including a feline voodoo surgeon, a robotic sex slave nun, detachable siamese twins and a sinister pleasure peddler who wishes to exploit her gifts.
Described by Lauren Beukes as "a hallucinogenic post-apocalyptic carnival ride," Taty Went West is part satire, part science fiction and completely fantastic. Singh's prose style of writing and elaborate descriptions are only enhanced by the gorgeous illustrations which head each chapter and are drawn by the author as well.
When Taty went West, she'd only ever really been South. So I feel very honoured to have Bill Campbell offer Taty a ride in his interstellar, magic bus at Rosarium Publishing.
In 2013, Taty Went West was first longlisted through the in the Kwani? Manuscript Project, a one-off competition based in Kenya, for African writers of unpublished manuscripts. The book was later published by Kwani? Trust in Kenya and debuted to enthusiastic praise. Word of mouth then quickly grew through Nikhil's appearances at major festivals, including the Africa Writes Festival 2016 at the British Library. Rosarium will be publishing the work throughout the United States and Canada.
Nikhil Singh is an artist, writer, musician and filmmaker. Former projects include the graphic novels: Salem Brownstone written by John Harris Dunning (longlisted for the Branford Boase Award, Walker Books 2009) as well as The Ziggurat (Bell-Roberts 2003) by The Constructus Corporation (now Die Antwoord). His work has also been featured in various magazines including Dazed, i-D Online, Creative Review, as well as Pictures and Words: New Comic Art and Narrative Illustration (Laurence King, 2005).
Rosarium Publishing was founded in 2013 by writer Bill Campbell who created a multi-cultural publishing company specializing in science fiction, comics, steampunk and a little crime drama thrown in. Both the stories and the artists are from all over the world representing different cultures, religious beliefs, sexual orientations and genres.
Follow Rosarium Publishing on Social Media:
Facebook - Twitter - Tumblr - Instagram
Source: Rosarium Publishing
---
Categories: A&E News, Books, Publishing and Printing
Tags: authors, books, fantasy, nikhil singh, rosariumpub, science fiction, taty went wet
---