Rophe Pharma's New Product Aims at the Hair Growth Market
Press Release
-
updated: Sep 13, 2017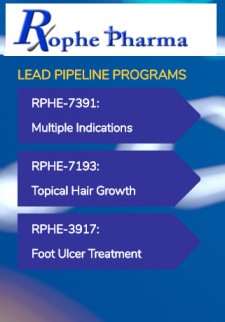 LOS ANGELES, September 13, 2017 (Newswire.com) - Robert Gadimian, owner of Rophe Pharma, announces that his company has applied for the International Patent Application (PCT application) for RPHE-7193, which is a topical drug for the treatment of hair loss. Hydralazine, the active substance in RPHE-7193, was approved decades ago for treatment of blood pressure but in an exciting development, it spurred hair growth as a side effect.
NEW PRODUCT HAS FDA APPROVED COMPOUND
Rophe Pharma plans to apply for the expedited review of its patent with the U.S. Patent and Trademark Office before the end of 2017. In an exploratory study conducted with RPHE-7193, significant hair growth is observed in men after 8 weeks of use compared other hair loss products that take 6-12 months to show noticeable hair growth.
The background for hydralazine in RPHE-7193 is almost the same as minoxidil, the active substance in Rogaine. Hydralazine is currently approved as a blood pressure drug. RPHE-7193 does not contain alcohol and polyethylene glycol, the two solvents in other hair products that cause skin irritation and sensitivity, hence, RPHE-7193 is formulated to avoid these skin-related side effects.
RPHE-7193 WILL BE STUDIED IN RELEVANT AGE GROUPS
Gadimian explains that the two approved drugs for male pattern baldness (MPB), have not been studied in men above age 41 but Gadimian is testing RPHE-7193 in that age group -- since as mentioned above, most of the men who suffer from hair loss are above age 41.
MULTI-BILLION DOLLAR MARKET FOR HAIR LOSS TREATMENTS
According to the America Hair Loss Association, MPB – also referred to as androgenetic alopecia -- accounts for more than 95% of hair loss in men. By the age of 35, two-thirds of American men will experience some degree of appreciable hair loss; by the age of fifty, approximately 85% of men will contend with significantly thinning hair. Approximately 25% of men who suffer from MPB began the painful process of losing their hair before reaching the age of 21. For men unhappy with MPB the effects can be wide-ranging, and affect their quality of life, both personally and professionally.
FDA APPROVED TREATMENT
Minoxidil and finasteride currently constitute the only two FDA-approved drugs for hair loss treatment. Meanwhile, millions more remain vigilant and eagerly poised for the introduction of legitimate and approved pharmaceutical drugs that would expand their range of choices. This has led the American Hair Loss Association to address the questionable hair treatment therapies on the market and warn its members to use hair loss treatments that are approved by the FDA.
Under Gadimian's guidance, Rophe Pharma planning to conduct the required studies by the FDA to get the product approved and bring to the market a desperately needed hair growth drug that will work for most men in all age groups.
Source: Robert Gadimian
Share:
---
Categories: Active and Healthy Living, Lifestyles
Tags: Gadimian, Gadimian Robert, Robert Gadimian, RobertGadimian, Rophe Pharma
---