Root Blockchain Partnership With YoTravelbook
Press Release
-
updated: Apr 17, 2018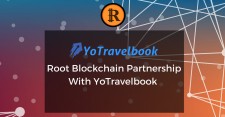 DELHI, India, April 17, 2018 (Newswire.com) - Root Blockchain on Tuesday announced that it would be offering its blockchain services to online bus travel platform, YoTravelBook.
YoTravelBook will soon launch its rewards and loyalty program backed by Root Blockchain. Travellers availing of YoTravelBook's services will be issued reward points in Root Blockchain tokens. Similarly, loyalty schemes will also be issued in the same crypto tokens.
The benefits are multiple:
Users will be issued actual assets as compared to notional 'points' that most reward and loyalty schemes issue.
In addition to redeeming the tokens for further YoTravelBook benefits, a user can also exchange them for benefits at any member of the Root Blockchain Affiliate Program.
As the value of Root Blockchain tokens will naturally rise in the future, it presents users with an opportunity to remain invested in an appreciating asset class.
YoTravelBook will also use Root Blockchain's services for its soon to be launched public poll and feedback portal. "We needed to ensure that our polling and feedback systems are secure and irrefutable and what better way to ensure this than by backing it with blockchain technology", commented a spokesperson for YoTravelBook. The results of a public poll would be stored in Root Blockchain in real time which will result in accurate and tamper-proof reporting. In addition to the public poll, a user feedback system is being planned along the same lines.
The user feedback system will initially be exclusively for YoTravelBook services, but ultimately, it will become available as a commercial service for other enterprises. "By backing our feedback system with a blockchain, we would like to ensure public availability of factual user feedback data for YoTravelBook services. This will help us to improve our services and also help to build confidence in the public, regarding our service quality", said the spokesperson.
About YoTravelbook
YoTravelBook, is an online travel portal for passenger bus services across India. It was launched in early 2017 and has 10000+ active customers till date. YoTravelbook is one of the Top 10 start-up travel aggregators in India. Soon YoTravelbook will offer their customers hotels and flights booking services from all around the world.
About Root Blockchain
Root Blockchain, launched in late 2017, solves many problems with its unique offering — Blockchain as a Service (BaaS) — the world's first hybrid blockchain with flexible options for both enterprise and retail customers. The Root Blockchain ICO is already launched on March 1, 2018.
Root Blockchain employs a unique mechanism to increase the speed of transaction confirmation on the blockchain, while at the same time keeping the costs low. Only digital fingerprints of the actual transaction data are stored in the blockchain. Storage of the actual data itself is optional. If data storage is opted for, RBC provides a separate secure digital vault for encrypted data storage.
RBC offers several business models:
1.       Private Blockchain - Customers may choose to have their own dedicated blockchain, where only their transactions will reside.
2.       Consortium Blockchain - A private blockchain for two or more parties. Consortiums are ideal for linking customers and vendors.
Secure, encrypted data storage is provided as an optional feature. This is linked to, but physically decoupled from the actual blockchain. The entire Root Blockchain offering is wrapped in an API layer which ensures that businesses can easily be up and running in a minimal timeframe.
RBC is especially targeting the travel and education industry which is a 7.6+ Trillion Dollar Industry.
Source: Root Blockchain
---
Categories: Cryptocurrency
Tags: blockchain, Blockchain Technologies, cryptocurrencies, ICO, Investment, Travel, Travel agent
---