Ronnie Coleman Signature Series® Posts Record Revenue, Prepares for Huge Growth in 2018
RCSS® sets the supplement innovation bar high in 2018 and doubles the size of headquarters facility in preparation for massive growth
Press Release
-
updated: Jan 26, 2018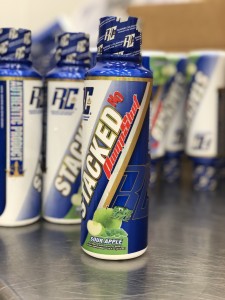 LAKE MARY, Fla., January 26, 2018 (Newswire.com) - Ronnie Coleman Signature Series™ (RCSS) is a brand of sports and fitness supplements that is owned and operated by eight-time Mr. Olympia Ronnie Coleman and his team of industry veterans. Established in 2011, RCSS has become a respected name and brand in the global supplement market by producing useful and trustworthy products with an approach that focuses on the needs of the consumer.
While 2017 produced rocky results for many sports nutrition supplement companies, RCSS closed out 2017 in dynamic fashion by posting its best month since inception that capped off a year-over-year growth figure of 29.3 percent. RCSS owner and CEO Brendan Ahern on RCSS's record year: "We came into 2017 with a very comprehensive strategy that would require full commitment from every single employee and vendor to work. Our team worked tirelessly to ensure we executed at every level and we did just that. The results are a byproduct of sticking to a plan. We couldn't be happier with the outcome and look forward to producing greater results next year. "
RCSS is off to a hot start in 2018 with the launch of several new items with an emphasis on their blood flow volumizer aid "Stacked N.O. Liquid Pump Shot™," which is the first of its kind in a liquid. Always looking to be at the forefront of innovation, RCSS is first to market with this specific blood-volumizing ingredient in a stable liquid format. This easy-to-take flavored shot can be consumed just minutes before training to help produce increased blood flow and aid in expanded blood volume allowing for more water and nutrients to be driven directly into the muscles. This results in better performance as well as a swelling "pump" feeling that any dedicated weightlifter is constantly chasing. Other new product releases include a natural testosterone booster (King Test 8X™), sleep aid capsules (Resurrect P.M.®) and a fast-acting carbohydrate replenishment and hydration powder (King Carb™).
Ahern on the importance of innovation: "A supplement brand's ability to innovate and be first to market with a product that is new, different and intriguing to the end consumer almost always determines whether or not that brand will continue to be successful. The end consumers in any market always want the latest and greatest … it's our job to deliver that."
RCSS is also expanding the headquarters to a much larger facility in Lake Mary, Florida. The new space will include a 3,000-square-foot fitness facility, 8,000-square-foot office space and a 28,000-square-foot warehouse. Also, the HQ build-out will include a media/podcast room as fresh content is a must for brands in the social media-driven world in which we live. The RCSS podcast, aptly named "Ain't Nothin' But a Podcast" after one of Coleman's famous phrases, can be viewed on their official YouTube channel - https://www.youtube.com/user/RCSSTV.
The space seems vital to keep up with the recent growth. "The additional space will give us the opportunity to explore various vertical integrations as well as streamline our current operations. We have no plans to slow down in 2018 that's for sure," Ahern said. 
More information about RCSS can be found here on their website – https://RonnieColeman.net.
Media Contact:
Derek Ciocca - CMO
1-888-854-3316
Marketing@ronniecoleman.net
Source: Ronnie Coleman Signature Series
Share:
---
Categories: e-Commerce, Small Business, Sports, Fitness, and Recreation
Tags: bodybuilding, business, entrepreneurs, fitness, health, Protein, Sports Nutrition, supplements, vitamins
---