Ronin Conquers New Heights With Their Battery-Powered Rope Ascender: The Ronin Lift
Press Release
•
updated: Jan 9, 2017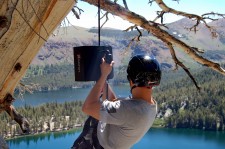 Los Angeles, CA , January 9, 2017 (Newswire.com) - ​​​​​​The Ronin Lift will revolutionize the way people get a leg up in this world as everyone from climbers, cavers, arborists and snowboarders are able to more safely ascend, climb, haul gear, and live their passion.
The Ronin Lift is a lightweight portable battery-powered rope ascender that is capable of lifting up to 400 pounds. It can easily act as an ascender, portable winch, or belay device. This product was designed to help people scale vertical heights, whether that be the arborist climbing a tree for work or a physically challenged climber accomplishing a lifelong dream of scaling El Capitan. The Ronin Lift is capable of transporting individuals and/or gear quicker and more efficiently than traditional rope ascending products. The Ronin Lift will be available for the first time on Kickstarter in mid-January.
"The Ronin Lift provides the security and ease to scale new heights from the most fit to the physically challenged. Movement is freedom and we created this lift because we truly believe that a new outlook on life can change the world. What better way to get a new outlook than to change your elevation!" says CEO and Co-­Founder Bryant Bertrand.
Disabled veteran, John M. St. Martin, Jr. of the US Army Special Forces was one of the first to test the Ronin Lift and said "It enabled me to do what I can no longer do on my own due to my disability. I see great potential in this device for disabled people in general, especially those who have lost a limb."
The climbing community is already taking note with the likes of legendary big wall climber Pete "Pass the Pitons" Zabrok, committing to use the Ronin Lift in May 2017 to assist with his ascent of El Cap saying, "It takes at least two if not three people working together to haul our massive 'pigs' up the wall. It is extremely time consuming and wicked hard work."
The Ronin Lift will be available via Kickstarter in January 2017. For more information, please visit our website www.changeyourelevation.com and enter the "Win A Ronin" Contest.
About Ronin Revolution:
Founded in 2015 with the goal to "design innovative products that drive positive change in the way we work, play and live." As avid outdoorsmen, the founders of Ronin believe that portable and affordable rope ascending will be a game changer in some of today's most popular emerging sports and challenging commercial markets.
Media Contact:
714- 833-1751
​info@changeyourelevation.com
Source: Ronin Lift