ROI Named KLAS Category Winner for Business Solutions Implementation Services in 2018
Press Release
-
updated: Feb 5, 2018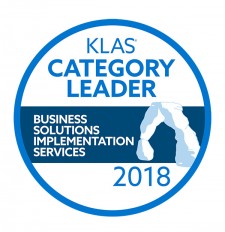 ATLANTA, February 5, 2018 (Newswire.com) - ROI Healthcare Solutions, LLC – In the healthcare IT services industry, hundreds of well-known vendors saturate the market with promises of quality, efficiency, reliable systems, and business value. Healthcare providers are charged with sifting through vendor options to find the best fit, based on their unique business goals. Many will leverage independent rankings and insights from third-party organizations like KLAS Research to provide valid and verifiable input. Within KLAS, over 80 product and services categories are evaluated every year and vendors are ranked based on anonymous customer reviews and healthcare industry demand.
Effective January 30, KLAS Research has announced Best in KLAS and Category Leader winners for 2018. The President of KLAS has this to say about the noteworthy honor:
"Category Leader is more than a ranking. It is a recognition of vendors committed to delivering superior solutions, said Adam Gale, President of KLAS. It gives voice to thousands of providers who are demanding better performance, usability, and interoperability in healthcare technology."
ROI Healthcare Solutions has officially been named 2018 Category Leader for Business Solutions Implementation Services. With a score of 96.6, ROI debuted as #1 this year based on candid anonymous customer reviews, such as "ROI Healthcare Solutions provides top-notch service. Their people are trusted advisers and continue to exceed our expectations." (Director, October 2017) Detailed vendor ranking and additional insights are available within the newly released 2018 Best in KLAS Awards: Software & Services report (Page 93).
ROI leadership recognizes how critical each team member (Consultant) has been across various clients, resulting in this recognition. Passion, years of industry experience, deep technology expertise, and commitment to quality and delivery excellence are key differentiators for ROI, that consistently drive on-time, on-budget delivery of advisory, implementation, and optimization services projects (e.g., implementation of Infor's Healthcare ERP solution).
According to ROI's President & Managing Partner, Jim Jancik, "I have always recognized KLAS as the independent authority for evaluating healthcare IT organizations since provider organizations trust their advice as credible. ROI is thrilled to join this community of Category Leaders for Business Solutions Implementation Services; this is a great honor for our organization and one that we will continue to work hard to earn every day."  
According to Bill Starks, Partner of ERP Services: "ROI's Infor practice is made up of some of the most talented Consultants I have ever worked with. They earned this award. They work shoulder to shoulder with our clients to implement and configure finance, supply management, HCM, and BI technology in a way that creates short-term and long-term success. Congrats to our team for the great work and thank you to our clients for sharing your experience with us via KLAS."
About KLAS Research
KLAS is a research firm on a global mission to improve healthcare delivery by enabling providers and payers to be heard and counted. Working with thousands of healthcare professionals, KLAS gathers insights on software, services and medical equipment to deliver timely reports, trending data and statistical overviews. KLAS data is accurate, honest and impartial. The research directly represents the voice of healthcare professionals and acts as a catalyst for improving vendor performance. To learn more about KLAS and the insights we provide, visit www.KLASresearch.com.          
*Selected commentary collected about ROI Healthcare Solutions by KLAS October 2017. For a complete view visit www.klasresearch.com ​
About ROI Healthcare Solutions
ROI Healthcare Solutions is a national, privately-held healthcare IT consulting firm that provides advisory & optimization, implementation, staffing, and support services to our clients, to help them drive clinical, financial and operational success. ROI is unique to competitors in the market, as we are a niche firm with very deep technology and operational expertise in the healthcare industry. Our team members are specialized and doing what they are great at and what they are passionate about. Our best practice methodologies guide our activities, our customers are referenceable, and our ability to deliver on time, on budget is consistent.
Founded in 1999 in Atlanta, Georgia, ROI offers industry-centric project management, consulting services, ERP services (national Infor alliance partner), and healthcare IT system offerings. Our leadership is committed to delivering quality services with highly engaged team members to clients who appreciate long-term partnerships.
Visit us at https://roihs.com.    
 
Contact:
 
Danielle Watson
ROI Healthcare Solutions
Vice President, Marketing & Sales Operations
+ 1 678 270 2867
danielle.watson@roihs.com ​
Source: KLAS Research
Share:
---
Categories: Information Technology, Hospitals and Clinics, Medicine and Healthcare
Tags: Avaap, ERP, Healthcare, Infor, IT Services, KLAS, ROI, RPI
---