RODEO GIRLS Introduces a Versatile and Stylish Jewelry Collection - the 'Princess & GoGo' Collection
The Princess & GoGo Collection expects to gain attention from current and new RODEO GIRLS followers. Fashion forward woman will wear these pieces often as they go with everyday outfits and that LBD you've been to dying wear.
Press Release
-
updated: May 1, 2018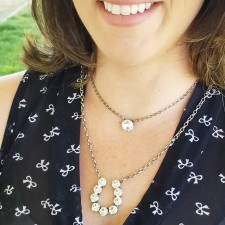 CLEMENTS, Calif., May 1, 2018 (Newswire.com) - RODEO GIRLS, an up and coming handmade jewelry company, announces its new collection – the Princess & GoGo Collection. The collection will go live on May 15, 2018.
This collection solves the search for stylish and affordable jewelry for the active woman. It also answers the question: "What jewelry can I wear with this outfit and feel confident and beautiful?"
The Princess and GoGo Collections' theme is black and white. The Collection uses Jet Black and Clear Swarovski Crystals. A variety of styles are available such as Crystal Post Earrings and fancier Crystal Dangle Earrings.
When asked where she got her inspiration for this collection, designer/maker Sue Flood stated, "The inspiration for the Princess & GoGo Collection came from two of our Dorper lambs. I wanted to capture the moments when they were babies. Princess is a bottle fed lamb and lived in our house for 6 weeks. GoGo is her half-sister and was raised outside. They are so adorable together – so I coined the collection after them. Princess and GoGo have Black and White markings so a Black and White collection followed. You will see them featured in many of the promotions for the new Collection."
Sue continues to say "I started making jewelry about 10 years ago as a hobby while I was working full time. I couldn't find secure and beautiful earrings to wear to work and to Ranch Horse Versatility Competitions. Like so many other handmade businesses, I started making jewelry for myself and friends and ended up opening an online shop."
The Collection also includes Digital Greeting Cards (featuring Princess and GoGo) and a Gray/Black Sandwich Bill Cap (with the RODEO GIRLS logo). The collection will be sold on RodeoGirlsShop.etsy.com and via Pop-Up Shops.
The Princess & GoGo Collection is designed for the fashion-forward woman who likes to make a statement. Sue adds, "This jewelry, although feminine and fancy, goes great with jeans and a white T-shirt. Think of the attention you will get from the earring sparkling against your favorite Cowboy hat."
Each item in the Collection has its own name. A few examples are: 
· $35 Appi (Earring)
· $65 Morgan (Necklace)
· $35 Suffolk (Bracelet)
· $4 Congratulations (Princess & GoGo greeting card)
To Pay-It-Forward, RODEO GIRLS is donating 10% of its net revenue to charity. For 2018 the donation is going to the Cancer Support Community in the San Francisco Bay Area (http://cancersupport.net/donate).
Sue Flood is excited to welcome customers to her new handmade product collection - The Princess & GoGo Collection.
Source: RODEO GIRLS
---
Categories: Small Business
Tags: #9to5, #cowgirlfashion, #cowgirls, #curecancer, #daintyearrings, #dorper sheep, #girlboss, #handmade, #jewelry, #lovesswarovski, #Swarovski jewelry, #zbesties
---