Rockin' Colt Creates a Beautiful New Line of Baby Products
New baby product line expected to generate tons of buzz as this is Rockin' Colt's first line consisting of floral prints and unique elements that coordinate with this years trends.
Press Release
-
Jul 22, 2016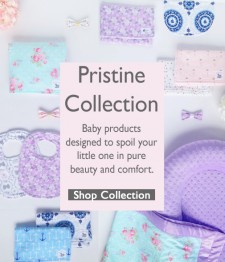 Granbury, Texas, July 22, 2016 (Newswire.com) - Rockin' Colt has just launched its fresh line of baby products designed for today's baby. Rockin' Colt is a handmade designer company that creates beautiful and seamless baby products for customers looking for that perfect and unique baby gift. The Pristine Collection features 18 new items with a variety of prints for customers to choose from. Rockin' Colt designs baby blankets, bibs, burp cloths, bows, and more! Whether you are looking for a cheerful and splashy pink flamingo print bib or a nautical theme baby shower gift, you will find a large selection in this new 18-piece collection.
A fresh theme encompasses the Pristine Collection. It features pink flamingo bibs and burp cloths as well as a pink, mint and gold polka dot fabric to coordinate. There is also a nautical bib and burp cloth gift set for that little sailor. Purple floral patterns are also seen throughout the Pristine Collection. The Hazel Rose blanket and bedding is a favorite with a mint and pink floral pattern. Rockin' Colt is also excited to announce their first collection of bows to the shop. Other moms will be anxious to know how to get their hands on these exclusively designed baby bows. All the bows can be matched with a bib and burp cloth set to make your baby the trend-setter of the year! The Pristine Collection is also excited to introduce its newest Cradle Me pillow color: lavender. 
Designer Jackie Druzanovic has created a line of baby pillows to help baby feel comforted and sleep soundly. The Cradle Me pillow is the hot buzz tons of moms are saying they can't live without. One mom raved about her Cradle Me saying, "I love it! When I put my baby in it he is so snug and cozy and sleeps so well." – Jennifer Haase The story behind the Cradle Me is a great read for moms wanting better sleep for them and their little ones. You can find this story at Rockin' Colt's etsy shop:
This new collection is expected to fly off the shelves. There is a limited amount of stock and the line will be pulled after three months. Hurry and check out this one of a kind collection before it's gone.
Media Contacts:    Jackie Druzanovic, 817-821-4210, handmade@rockincolt.com
Source: Rockin' Colt
Share:
---
Categories: Consumer Goods, Parenting, Pregnancy, Shopping, Business News
Tags: Baby, Baby Accessories, Baby Bedding, Baby Blanket, Baby Bows, Baby Gift, Baby Headbands, Baby Nursery, Baby Shower Gift, Bibs, Burp Cloths, Cosleeping
---