Rocket Insights Hosts One-Day Design Sprint Workshop With Jake Knapp in Boston
Press Release
•
updated: Feb 13, 2018
The event will be held on March 15, 2018 from 8:30am to 6:00pm at the Harborside Salon, 60 State Street Boston, MA.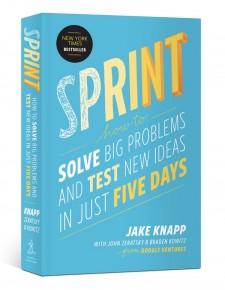 ​Boston, MA, February 13, 2018 (Newswire.com) - Rocket Insights, a Boston-based agency focused on creating beautiful apps, is hosting a one-day Design Sprint workshop with its creator Jake Knapp. Knapp is the New York Times bestselling author of "Sprint" and will teach participants how to uncover new product ideas, validate assumptions, and make better product decisions using the Design Sprint methodology.
Knapp developed the Design Sprint methodology during his time at Google Ventures. The Design Sprint is a five-day process for answering critical business questions through design, prototyping, and testing ideas with customers. By condensing a full Design Sprint into an eight-hour workshop, participants will experience the process with the help of an expert guide. Knapp will walk participants through all five days of the process as well as the business strategy and behavior science behind each of them.
"We are excited to bring this workshop with Jake to the east coast for the first time," says Josh Porter, co-founder and design lead at Rocket Insights. "Google Design Sprint's have become the hot new methodology for technology companies and start-ups, and is very popular in user experience design circles. This workshop is a great opportunity to learn right from its inventor."
Knapp spent 10 years at Google and Google Ventures, building products like Gmail and Google Hangouts. During this time, he created the Design Sprint process to help his teams solve big problems and test new ideas. Knapp has tested his methodology more than 150 times, leading sprints at start-ups like Nest, Slack, 23andMe, and Flatiron Health.
Design Sprint methodology is used by teams around the world, from Silicon Valley start-ups and Fortune 500s to schools, governments, and nonprofits. To buy tickets to the workshop, visit Eventbrite.com to sign up.
About Rocket Insights
Rocket Insights is the product (un)agency, focused on creating beautiful apps for mobile, voice and the web. For more information, visit rocketInsights.com.
Media Contact:
Owen Tait
Phone: (925) 854-1970
Email: owentait@rocketinsights.com
Source: Rocket Insights
Related Media
Tags
Additional Links