Robkoo Launches Clarii mini: A Digital Wind Instrument & MIDI Controller Redefining Musical Expression
Press Release
•
Aug 28, 2023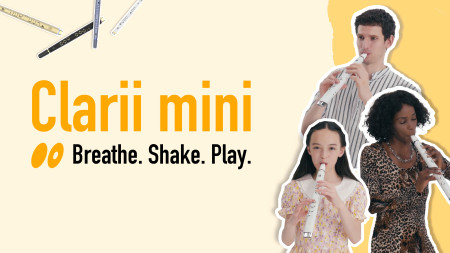 HONG KONG, August 28, 2023 (Newswire.com) - Robkoo, a trailblazer in musical instrument innovation, is excited to introduce Clarii mini, a revolutionary digital wind instrument and MIDI controller that empowers musicians of all levels to create and explore music with unparalleled simplicity and versatility.
Clarii mini redefines the musical landscape by combining a sleek, portable design with a diverse range of instrument tones. Designed to be effortlessly accessible, beginners can master the instrument within just a few minutes, courtesy of its dedicated tutorials and intuitive user interface.
Embarking on a musical journey with Clarii mini is a seamless endeavor. Its minimalist panel layout and multiple fingering modes ensure a smooth learning curve. Interactive courses, concise tutorials, and robust App support are at users' disposal to aid users in mastering the instrument in record time.
When the learning curve becomes a thing of the past, Clarii mini offers a unique way to play. Special Shake & Play tones can be played simply by shaking and waving the instrument, adding an extra layer of fun and expression to users' musical performance.
Clarii mini boasts a carefully curated selection of Robkoo's true instrument sounds, spanning from classical orchestral essentials to synthesizers and exotic ethnic tones. Users can immerse in the world of professional-grade vibes, all conveniently packed into this portable instrument.
With an adjustable thumb support position, Clarii mini ensures effortless playability for users of all ages. Even kids can dive into the world of music without any hindrance.
Clarii mini houses an HQ built-in speaker, optimized for daily entertainment. For a more personal experience, simply plug in headphones to enjoy a musical journey in solitude. Weighing only 225g, Clarii mini effortlessly fits into a backpack, instantly turning any location into a sonic playground.
Clarii mini offers an interactive experience with motion control, using its motion sensor and breath sensor for effects like pitch bend, portamento, and vibrato. In JamKoo App, users can adjust Clarii mini's settings, create custom fingerings, and design unique scales to tailor their play experience. With MIDI support, it connects to DAWs and sound modules via Bluetooth or USB, providing endless sonic exploration.
"We are excited to present Clarii mini, a digital wind instrument that empowers anyone to discover their musical talents within minutes," stated Oscar Xie, CEO at Robkoo. "With its innovative features, stunning sounds, and intuitive design, Clarii mini is set to redefine how we learn and play music."
Clarii mini is now available on Kickstarter. For more information, please visit: https://www.kickstarter.com/projects/787849110/clarii-mini-a-digital-wind-instrument-and-midi-controller
Source: ROBKOO