Robin Becker Dance Receives Capacity Building Grant From Disabled Veterans National Foundation
Press Release
-
May 26, 2016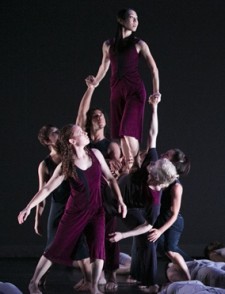 New YorK, NY, May 26, 2016 (Newswire.com) -  Robin Becker Dance (Life Through Dance, Inc.), a New York based dance company, announced today that it has received a Capacity Building Grant from the Disabled Veterans National Foundation (DVNF). This grant will help support performances of their dance work Into Sunlight, providing veterans, their families and caregivers with the opportunity to experience a dance work that gives voice to their experience and resonates on a very deep level, which in turn has proven to inspire dialog, healing and give hope; offer a safe, supportive environment for self-expression during post-performance discussions; and facilitate movement workshops that will help veterans recognize where they are carrying their trauma and give them ways to manage it. Movement workshops are appropriate for all, regardless of physical capacity.
Robin Becker, Founder, and Artistic Director of Robin Becker Dance said, "When I read They Marched Into Sunlight, David Maraniss' powerful book on the Vietnam War, I immediately responded to the timelessness and universality of the themes and events he documented. I embarked upon the creation of this dance, Into Sunlight, hoping that the universal language of the body would reflect and offer the same sense of healing that David's words evoked in me."
Gloria Hage, Executive Director said, "Having witnessed the impact of our dance work Into Sunlight, post-performance discussions, and movement workshops in helping veterans and military personnel, as well as their families', process their experience and find healing, we feel a great responsibility, and deep commitment to serving this community. We are grateful to the Disabled Veterans National Foundation for their generous support of this work. "
Joseph VanFonda (USMC Sgt.Maj. Ret.), CEO of the Disabled Veterans National Foundation said, "DVNF seeks to fund programs that positively affect veterans in unique ways, and this fascinating program certainly fits that bill. We're hopeful that this funding will foster the positive impact Robin Becker Dance is making."
The challenges facing service members, veterans, and their families require more than medical treatment to resolve. A growing body of evidence indicates that arts programming provides service members and veterans the opportunity to express themselves and share their stories, which can help them cope with stress and alleviating symptoms of post-traumatic stress (PTS), Traumatic brain injuries (TBI), and depression. The arts also help spouses and children cope with the stresses of pre-deployment, deployment, and post-deployment. The powerful tools the arts offer for coping with stress can help build coping mechanisms that benefit individuals throughout their lives.  – Arts, Health and Well-Being across the Military Continuum, National Initiative for Arts & Health in the Military
Colonel Scott T. Krawczyk, Department Chair of English and Philosophy and Founding Director of the Creative Arts Project at West Point Military Academy says, "Whether military or civilian, "Into Sunlight" is not just worth one's time. It's a necessary experience in today's society, for it reflects with rare sincerity on the echoes of Vietnam as they reverberate in American life right now. At its best, art has the potential to heal. This is art at its best."
About the Disabled Veterans National Foundation: DVNF exists to provide critically needed support to disabled and at-risk veterans who leave the military wounded—physically or psychologically—after defending our safety and our freedom.
DVNF achieves this mission by:                                                                                    
· Offering direct financial support to veteran organizations that address the unique needs of veterans, and whose missions align with that of DVNF.  
· Providing supplemental assistance to homeless and low-income veterans through the Health & Comfort program and various empowerment resources.                                                               
· Providing an online resource database that allows veterans to navigate the complex process of seeking benefits that they are entitled to as a result of their military service, as well as additional resources they need.                                                          
· Serving as a thought leader on critical policy issues within the veteran community, and educating the public accordingly.
About Into Sunlight:
Into Sunlight is an evening-length dance inspired by the book They Marched Into Sunlight, written by Pulitzer Prize winning journalist and best-selling author, David Maraniss. The book portrays the tumultuous shift of cultural perspective in the United States, caused by the Vietnam War, through the lens of two events on October 1967. Into Sunlight premiered at the University of Wisconsin, Madison in 2011, and at Hofstra University, New York, where it was the centerpiece for interdisciplinary conferences examining the effects of war and violence on the individual body and the social body, from Vietnam to our present era. The conferences addressed perspectives of History, Psychology, Political Science, Trauma Studies, Anthropology, Visual Art, and Theater, through the lens of war's impact. After every performance, audiences, which included war veterans, engaged in discussion, expressing their emotions, concerns, interpretations, and experiences. Subsequent performances include the 92nd Street Y, Georgetown University, Stony Brook University's Festival of the Moving Body, NYC Performance Series at Florence Gould Hall, West Point Military Academy, and an extensive residency at Holy Trinity High School. In the fall of 2015, Into Sunlight toured in Vietnam.
Disabled Veterans National Foundation Contact:
Doug Walker
​Communications Director
(202) 737-0522      
Source: Robin Becker Dance
Share:
---
Categories: Performing Arts, Military and Defense, Dance, Arts and Entertainment
Tags: dance, dance movement therapy, David Maraniss, disabled Veterans, Health, Health and Well-Being across the Military Continuum, Into Sunlight, military, movement, performing arts, Robin Becker, veterans
---