Robert Nelms Competes in Fishing Tournament to Benefit a Great Cause
Press Release
•
updated: Oct 31, 2017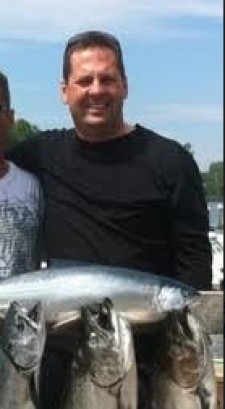 TRENTON, N.J., October 31, 2017 (Newswire.com) - When it comes to fishing and raising money for a great cause, Robert Nelms relishes the opportunity to do both. Combine those two together into one event and Nelms will be there.
The 5th Annual Walleyedan Tournament took place on Saturday, Oct. 7, with the goal of raising $100,000 which will go towards purchasing ingredients to pack 400,000 meals. The tournament took place out of Bar Harbor, Maine.
And while we would all like to win, it is all about the kids and helping fight hunger.

Robert Nelms
"I love to fish, and this tournament is circled on my calendar every year," says Nelms. "The important factor in participating in this tournament every year is to bring awareness to hunger and raise money for a great cause. It's always great to see the turnout grow each year too."
Kids Against Hunger-Brainerd Lakes Area is a nonprofit organization devoted to humanitarian food aid with the mission to reduce the number of undernourished children across the United States and starving children around the world.
The night before the event, there is a dinner for companies who have donated items and money to the tournament as a sponsor and for the contestants who will be fishing.
Robert Nelms explains that you do not have to be a professional fisherman to sign up for the tournament. Novices to professionals sign up each year.
"I have seen beginners have some great luck out here during the event," says Nelms. "That's what makes this tournament special. You do not have to be an expert to win or make an impact for the great cause."
Some of the top sponsors of the event include K-Drill, Lions International, McDonald's, Tito's Handmade Vodka, Wes Anderson, Black Ridge Bank, Nor-Son and Ice Castle Fish Houses.
Robert Nelms says the fishing tournament is about two things: walleyes and raising donations to support Kids Against Hunger-Brainerd Lakes Area. There are two contests associated with the competition.
First, The Walleye Contest, which is based on who can reel in the most massive catch. First place takes home $15,000, second place wins $5,000 and third place wins $2,500.
The second is a fundraising contest open to everyone. Each person in the Fishing to End Hunger Tournament who raised a minimum of $500 in donations received a K-Drill for free, which is a $500 value.
"There were a lot of outstanding donors for this tournament," Robert Nelms adds. "While the goal is to raise money for the great cause, it is rewarding and motivational to get more donations to earn the prize."
The contest was conceived in 2013 when two excellent ideas came together to form Fishing to End Hunger.
John Paston, CEO of Kids Against Hunger-Brainerd Lakes Area, wanted to host a fundraising event to benefit the charity and thought a fishing event would work well with the culture of the area.
Dan Eigen, also known as Walleyedan, wanted to put together a fishing tournament to benefit a charity. Both shared a conversation about their ideas and the competition was born.
"Bar Harbor is a great location for the tournament too," Nelms says. "I love fishing here and seeing the activity and families who watch the event."
Money raised from the event went towards meals that have been formulated by food scientists to provide a source of digestible protein, vitamins and carbohydrates needed by a malnourished child's body and mind.
Kids Against Hunger's meals have all nine of the essential amino acids needed for complete nutrition.
"When you learn more and more about what Kids Against Hunger does and means for the community and the world, you see more fishermen sign up for the tournament," says Robert Nelms.
"And while we would all like to win, it is all about the kids and helping fight hunger."
Source: Web Presence, LLC
Related Media