Rising Star DAUPHINE Organics Release Vegan Advanced Bioactive Skincare Line, the Luxe Agape Collection
DAUPHINE organics redefine luxury with sophisticated, nutrient-rich skincare containing over twenty active ingredients
Press Release
-
updated: Oct 27, 2017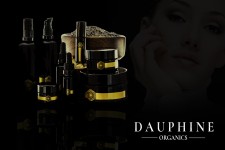 SPRINGFIELD, Mo., October 27, 2017 (Newswire.com) - ​Jennifer Biagioni, from DAUPHINE organics, is announcing the release of the brand new Luxe Agape Collection; a sophisticated ten-piece collection of innovative skin care, handcrafted using only the finest exotic and nutrient-rich ingredients for the ultimate luxury skincare experience. The Luxe Agape Collection will be released on Nov. 1, 2017.
Known for their luxurious proprietary, anti-aging formulas, DAUPHINE organics offers advanced bioactive proprietary botanical blends, designed specifically to meet the dynamic needs of active men and women seeking a healthy, balanced lifestyle.
Not just another organic skincare brand, DAUPHINE organics formulates using the most effective, nutrient-rich natural resources sourced from around the globe. Jennifer Biagioni states,
"It is important to me that each blend provides the user with a unique yet beneficial experience; I use these products and although beauty is important to me, my health and wellness are far more valuable. Therefore, it was important to create products that not only make me feel younger but more importantly help to keep my family and me healthier. I am so blessed to have the opportunity to share my gifts with others because I know others too will benefit greatly from the incredible botanical powers contain within our [DAUPHINE organics] blends."
Some of the key components of each blend contain bioactive phytonutrients, and marine peptides, both offer complete nutritional support to balance, protect, and energize the body for a soft, luminescent complexion.
Now for the first time, Jennifer Biagioni combines each of her favorite, most popular nutritional beauty blends into one synergistic collection that packs a powerful nutritional punch and promotes youthful looking skin. The new Luxe Agape Collection is scheduled to go live on Nov. 1, 2017.
The Luxe Agape Collection is expected to sell out before the end of the season so be sure to shop the collection where it will be exclusively sold on the website DAUPHINEorganics.com.
The Luxe Agape Collection showcases the ultimate love the body needs for achieving healthy, balanced nutrition while enduring the hectic seasons of adulthood; nutritional pampering helps to alleviate emotional stresses and protect the body from free radical damage, resulting in renewed vitality and total rejuvenation of mind, body, and soul.
Each of the active botanical blends in the collection is rich in antioxidants, essential vitamins, and minerals, possessing the power to repair, restore and protect the skin cells from oxidative stress, a condition that results in degradation of our stem cells caused by free radicals. Daily application of products such as the Advanced Active Face Oil, which contains nutrient-rich prickly pear and rose hip seed oils, among others, are rich in vitamins and essential fatty acids that penetrate into the deepest layers of the skin, combating free radicals, stimulating collagen production, and promoting skin regeneration, resulting in a smoother complexion. Void of skin care treatments, severe cell degradation can eventually result in malfunctioning of regulatory body functions with the potential of progressing to the development of degenerative diseases; adopting an effective skin care regimen can dramatically reduce this threat.
"The Luxe Agape Collection highlights the secret to a healthy, more youthful complexion by pampering the skin with decadent, highly concentrated skincare blends that provide the supplemental nourishment the body needs to sustain a healthy, balanced lifestyle," states Mrs. Biagioni.
To capitalize on today's trends, several products feature ingredients such as turmeric, activated charcoal, pomegranate oil, and essential oils such as lavender and vetiver.
All of the nutritional beauty blends in the collection are free from parabens, phthalates, propylene or butylene glycols, petroleum, sulfates, PEGS, TEA, DEA, GMO, silicones, pesticides, artificial dyes, fragrances, or carcinogens. Each botanical blend is Vegan, Gluten, and GMO-free, lovingly formulated and filled from Jennifer Biagioni's private studio, never outsourced, and hand blended in micro-batches for ultimate freshness and efficacy.
Each piece of the collection is elegantly packaged in exquisite amethyst glass imported from Switzerland; designed for optimal protection from harmful UV rays, the unique engineering prolongs the shelf-life of the product while maintaining optimal freshness. The bottles are recyclable but are so beautiful, they are usually repurposed or returned to DAUPHINE organics for a discount off the next purchase when participating in their "Use me, Reuse me" program.
Some examples of the products found in the Luxe Agape Collection are:
Advanced Active Face Oil
Advanced Bioactive Organic Anti-aging Eye Serum
Rose Phytoplankton Toning Facial Mist
Advanced Luxe Charcoal Face Mask
Luxe Magnesium Body créme
The Luxe Agape Collection ranges in price from $32 to $230.
Jennifer Biagioni is excited to welcome her fans to her Luxe Agape Collection they've been requesting and wants to show her gratitude by offering indefinite complimentary worldwide shipping to all Royalty VIP members; become a member here: http://eepurl.com/c6-Rln
For exclusive product previews, access to unadvertised sales, and an instant 20% discount code, to claim your complimentary Royalty Membership here: http://eepurl.com/c6-Rln
You may also enroll in our VIP program by visiting the website, please visit DAUPHINEorganics.com
For more information about the Luxe Agape Collection or for an interview with Jennifer Biagioni, please write to Jennifer@DAUPHINEorganics.com. Media high-res photos available upon request.
About DAUPHINE organics
Jennifer Biagioni's journey with natural remedies began when she was a young girl, influenced by her beloved late grandmother. Into adulthood, life took hold and Jennifer found her hectic family and work life relied heavily on nutrient depleting personal care treatments riddled with the toxic, chemical irritants found in mainstream products. Then when tragedy struck her family, followed by a seemingly sudden extreme skin sensitivity to commercial products, Jennifer began to refocus her attention on her experience in homeopathic personal care solutions; determined to rid the family home of pathogens and toxic irritants, Jennifer envisioned a healthy future where what was consumed through our largest organ, the skin, or digested in our food, would protect rather than contribute to the development of degenerative medical conditions caused by oxidative stress; a vision she seeks to share with the world through the innovative products distributed by DAUPHINE organics.
Source: DAUPHINE organics
---
Categories: Entrepreneurship, Beauty and Personal Care, Sports, Fitness, and Recreation, Active and Healthy Living, Faith, Beauty and Cosmetic Products, Bed and Bath, Middle Class Living, Shopping
Tags: Anti-aging, beauty, Bioactive, detox, exercise, Fitness, Gift, healthy diet, natural living, organic, skincare, vegan
---