Rishi Tea & Botanicals Forges Strategic Partnership With SBJ Capital to Accelerate Growth
Press Release
•
Feb 16, 2023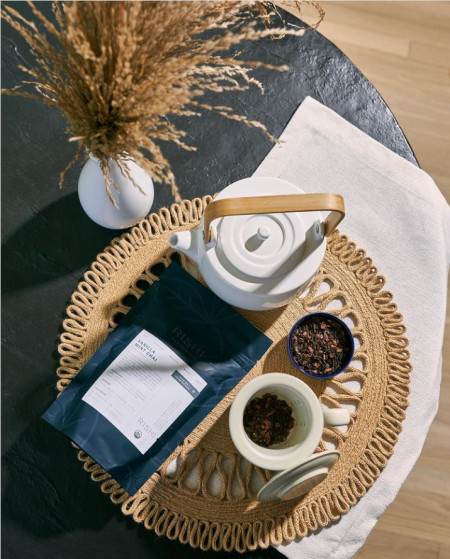 SAN FRANCISCO, February 16, 2023 (Newswire.com) - Rishi Tea & Botanicals, a leading branded specialty and organic tea and botanicals producer, has announced a strategic investment partnership with SBJ Capital, a private investment firm based in the San Francisco Bay Area.
Founded by Josh Kaiser in 1997, Rishi Tea & Botanicals is revered by tea enthusiasts for its premium loose-leaf and sachet teas, innovative and culinary-inspired botanical blends, unique Garden Direct program featuring a selection of rare teas and botanicals, and sparkling ready-to-drink beverage Sparkling Botanicals by Rishi.
"This is the time for tea," says Rishi Tea Founder and CEO Josh Kaiser. "Tea lovers are becoming more sophisticated, and the market we lead is expanding rapidly. Rishi's growth across channels, our new product development, and my passionate team's execution speak to Rishi's amazing potential. SBJ Capital is a like-minded partner that will honor Rishi's quality while helping us to grow the business, enhance the total Rishi experience, and deepen our relationships with our incredible customers and suppliers. We will continue to focus on expanding the appreciation of premium tea and its rich, inspirational traditions. We couldn't be more excited about Rishi's future."
"SBJ is thrilled that Josh entrusted us to help grow the incredible brand he has created, and we are excited to support the Rishi team in their mission to provide consumers with the best cup of tea by leveraging their differentiated supplier partnerships, incredible innovation, and the support of their loyal and rapidly expanding customer base," said Ben Landis, Managing Director at SBJ. Porter Hall, Vice President at SBJ Capital, added, "Rishi is a leader in the specialty tea category, which is expected to see rapid growth driven by trends toward wellness, organic, clean label, and active lifestyles which, through tea, are combined with a ritualistic consumer experience. We look forward to leveraging our tea-specific experience to support Rishi's next phase of growth."
SBJ Capital has a track record of investing capital and strategic expertise into family-and founder-owned brands, including deep experience in the food, beverage, and lifestyle industries.
The current management team will continue to lead Rishi Tea & Botanicals going forward. Josh Kaiser will remain CEO, Jeffrey Champeau President, Nathan Kosky Executive Vice President, and Jenny Daniels Chief Financial Officer.
TKO Miller served as the exclusive financial advisor to Rishi. O'Melveny served as legal advisor to SBJ, and Godfrey & Kahn served as legal advisor to Rishi.
About Rishi Tea & Botanicals
Rishi is the leading selector, importer and maker of organic, direct trade tea and botanicals. Founded on the commitment to set the standard for quality and expand the awareness of tea and its rich, inspirational tradition, Rishi offers premium tea and botanicals imported directly from gardens across the world. From modest beginnings in 1997 to becoming an established leader in the specialty tea market, Rishi's mission has never wavered. For more information, please visit rishi-tea.com.
About SBJ Capital
SBJ Capital is a private investment firm focused on investing in founder and family-owned consumer and services companies. SBJ provides operational resources, strategic advice, domain expertise, and a partnership approach to realize the shared goals of entrepreneurs, owners, and management teams. SBJ was founded by an experienced team of professionals with a track record of growing companies both as principal investors and as operating executives. Please visit www.sbjcap.com or more information.
Source: SBJ Capital