Rio's Renditions Releases #Pokemon20 Hat Line
Known for her creative renditions of video game, cartoon, and anime characters as fleece hats, Rio McCarthy wanted to surprise everyone with a line celebrating Pokémon's 20th anniversary.
Press Release
-
May 19, 2016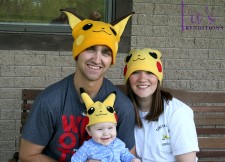 St. Joseph, Missouri, May 19, 2016 (Newswire.com) - Rio's Renditions is a handmade business known for creating fleece hats and plush that is excited to announce its new #Pokemon20 fleece hat line. The online store is currently open with a limited run of the hats.
Growing up with the Pokémon series as a kid led to some of Rio's fondest memories, and to think it's 20 years old now is incredible. It hasn't shown signs of slowing down, and neither has she. To celebrate its remarkable anniversary, Rio wanted to give back to the series that gave her so much growing up.
The new #Pokemon20 line is currently limited to just 3 of each of the ten designs, so they're sure to sell out quickly. The characters included are: Pikachu, Raichu, Marill, Psyduck, Ditto, Munchlax, Snorlax, Jigglypuff, Meowth and Lucario.
These items are currently in stock, and are ready to be shipped, but beware – since they are currently limited, they are expected to run out.
We are so excited to see our fellow "hatters" use these for cosplay, or for every day wear, so please feel free to send pictures through Etsy after you've received your order.
About Rio's Renditions
Rio McCarthy, with her business Rio's Renditions, has been designing and creating fleece character hats since 2008. She has had the fortune of working with Capcom Unity in the past, as well as creating countless hats and plush that have brought smiles all across the world. Rio's main goal is to spread happiness with her creations, so please check them out at: http://riomccarthy.etsy.com
For additional social interaction, you can follow her on Twitter: http://www.twitter.com/RiosRenditions, on Facebook at: http://www.facebook.com/RiosRenditions, on Instagram at: http://www.instagram.com/RiosRenditions, and on Pinterest at: http://www.pinterest.com/RiosRenditions.
RELATED LINKS
Source: Rio's Renditions
Share:
---
Categories: Video Games, Artists, Hobbies and Crafts
Tags: accessories, cosplay, fleece hats, handmade, hats, Nintendo, Pokemon, Pokemon20, video games
---
Related Files
Additional Links