Rina Limor Brings Comfortable Luxury to Her New Essentials Gold Collection
Press Release
•
May 19, 2016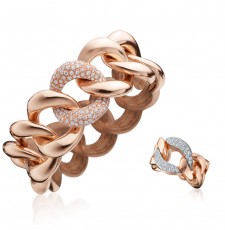 New York, NY, May 19, 2016 (Newswire.com) - ​Coco Chanel once said, "Luxury must be comfortable, otherwise it is not luxury" a sentiment New York jewelry designer Rina Limor shares when she created her New Essentials gold collection. Rina Limor highlights the contemporary classic style and versatility of the precious metal in her new gold collection known as The New Essentials. Find classic to contemporary link necklaces that you can layer with baroque pearls for a modern look; stretch gold bracelets and rings in solid and link styles that you can wear alone or stacked for more impact; head-turning earring styles with link drops, bold on-the-ear designs that are lightweight and perfect for all day wear and fashionable abstract styles for the always stylish woman. Some styles are accentuated with diamonds for added sparkle and elegance. These jewelry styles can instantly change a mood or a look from elegant to cool to warm depending on your choice of 18K yellow, white or rose gold. To add to the appeal, select ring and bracelet styles are not just flexible but also stretchable. "I describe it as luxury meets comfort", Rina says. There are no clasps to struggle with or fear of the bracelet or ring not fitting, perfect for the woman who appreciates the classic elegance of gold jewelry for today's modern lifestyle.
Gold jewelry is always on trend and is the metal for all times. Rina Limor's New Essentials gold collection is made in Italy embodying the fine craftsmanship and sophistication of Italian made jewelry.
All styles are available for purchase exclusively at a Rina Limor fine jewelry retail partner. You can locate a store at RinaLimor.com. For more information and to see available styles visit their website at RinaLimor.com – the New Essentials collection. Rina Limor partners with independent retail jewelers in providing outstanding customer support for your marketing programs, social media campaign, and participation in in-store trunk shows. They offer high resolution images for print and digital campaigns.
About Rina Limor:
Rina Limor has been a creator of beautiful, innovative jewelry for over 40 years, since she started a career in the jewelry industry in New York, and began traveling the world in search of inspiration. Her collections, either in precious colored gemstones or top quality diamonds are worldly, sophisticated and feminine. Each design by Rina Limor combines one of a kind gems of various colors, shapes and sizes, creating non-traditional beauty that is as unique as the woman it is designed for. Her jewels transcend the moment and make a statement about that woman's personal style and individuality.​
Source: Jessica Denis Marketing Contact jessica@rinalimor.com RINA LIMOR
Related Media