Riga is Champion of FIBA 3X3 World Tour
Press Release
•
updated: Dec 22, 2020
Saudi Arabia's Minister of Sports emphasizes the Kingdom's ability to host and organize all global sports events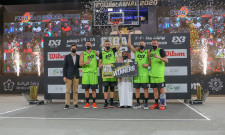 JEDDAH, Saudi Arabia, December 22, 2020 (Newswire.com) - In the presence of His Royal Highness Prince Abdulaziz bin Turki Al-Faisal, Minister of Sports and Chairman of the Saudi Arabian Olympic Committee, the ninth and fifth round of the 3 × 3 World Basketball Championship Finals, which began in Jeddah on Friday, concluded on Saturday with the participation of the best 12 teams in the world.
The world tour was organized by the International Basketball Federation (FIBA) in cooperation with the Ministry of Sports and the Saudi Basketball Federation and with the support of (Quality of life program).
Mr. Abdulrahman Al-Massad, Chairman of the Board of Directors of the Saudi Basketball Federation, and Mr. Ignacio Soriano, President of Events and Partnership 3x3 in the International Basketball Federation, crowned the winning teams, as Riga (Latvia) won the title after defeating Liman of Serbai in the final match with a score of 21-20.
The tournament's prizes totaled $ 250,000, with the winner getting $ 60,000, the second-place winner 40,000, and the third 28,000, in addition to cash prizes for those with positions from 4 to 6.
Mrs. Aseel Al-Omran, Director General of Marketing Department in the Quality of Life Program, presented the award for best player in the Dunk competition (Grabowski) from the Netherlands after winning the best vote by the committee.
On this occasion, His Royal Highness Prince Abdulaziz bin Turki Al-Faisal, Minister of Sports and Chairman of the Saudi Olympic Committee said after the conclusion of the tournament: "This tournament is added to a group of tournaments hosted by the Kingdom, and we, praise be to Allah, are hosting many world championships despite the current circumstances, and Allah's willing in the future, We all will enjoy when things return to normal and the fans return to support and encourage their best teams, Allah's willing".
His Highness added: "We always try hard to cooperate with international federations as well as the Saudi Basketball Federation to bring what is best in the world, as the 3 × 3 games are considered one of the fastest basketball games in development, interest, and growth, and even its existence is considered to have a new character in the sport of basketball. We are keen to follow and bring in all the tournaments that enjoy global popularity."
His Highness the Minister of Sports continued: "The ministry is interested in everything that adds to Saudi sports and basketball in the Kingdom, and we seek to bring a world championship of the highest levels, and we promise everyone that in the future we will host some spectacular and entertaining club competitions."
Source: Saudi Arabia's Minister of Sports