Rick Chaffin Opens New Organic Bakery and Cafe
Press Release
-
updated: Jun 2, 2017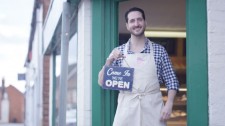 Spartanburg, SC, June 2, 2017 (Newswire.com) - Rick Chaffin is proud to announce that he has opened a unique bakery and cafe in Spartanburg, SC. His aim is to create an artisan bakery and cafe, where people can enjoy 100% organic, 100% vegetarian food, pastries, cakes, breads, and wines. To his delight, Chaffin's Bakery has turned out to be into an instant hit.
"I wanted to create something unique and for which there is a demand," says Rick Chaffin. "At present, people have to choose between a restaurant, where they can eat huge meals and have alcohol; or a bakery, where they can have pastries, cakes, and non-alcoholic drinks. None of those establishments serve only organic and vegetarian foods. So what I aimed to do was combine both options."
At Chaffin's Bakery, customers can see how the bread is being baked, forming the basis of most of the dishes on the menu. Most breads are slow fermentation breads, and the associated smell is enough to make anyone come in and enjoy a coffee - or a glass of wine.
The new establishment was opened ahead of schedule and has grabbed the attention of the local community thanks to its unique twists on the menu. Not only is the food 100% organic and vegetarian, so are the drinks. Chaffin's Bakery is classed as an artisan bakery, with Rick Chaffin himself as the head baker. He adds: "I was trained by my father, who owned an artisan bakery in the United Kingdom. From an early age, I was taught to have a real love of food and flavors, and I believe this can only be achieved by going organic. And anyone who is truly organic will also know that meat should be off the menu, as meat production is no longer sustainable for our planet."
At Chaffin's Bakery, people can enjoy traditional, incredibly tasty, slow fermentation breads. Furthermore, the organic, high quality ingredients are used to make delicious cakes and pastries. The entire establishment is open plan, so people can see how their food is being prepared and made, while at the same time learning about the art of making bread. Over the past few weeks, Rick Chaffin has worked hard to attract only the best staff, and highly trained bakers. 
The bakery will be open from morning till evening, catering to different clientele. Alcohol is not served before 5 pm. Before then, people can enjoy delicious, 100% organic coffee, prepared by trained baristas. And in the evening, customers can also choose from global organic wines, served by trained sommeliers. Here, what Rick Chaffin aimed to create was the feeling of an indoor picnic that requires no preparation on the part of those enjoying it.
One of the reasons why Chaffin's Bakery was able to open ahead of schedule, was because far less work needed to be completed on the property than initially expected. Rick Chaffin adds: "When I first saw the property, I knew it was the right one for my bakery and cafe and I simply had to have it, regardless of how much work would be needed to transform it into the establishment that I had envisioned. Luckily, within a week, we had installed the ventilation system, the toilet, and the kitchen. Things just seemed to fall into place. I honestly believe it was meant to be."
Chaffin's Bakery has a vintage feel to it, with lots of windows and shabby chic furniture, centered around the circular bar. The open plan kitchen is to the side of the space itself, enabling people to view it regardless of where they are seated. The drinks menu features smoothies, teas, coffees, organic juices, and vegetarian, organic wines and beers in the evening. The food menu, meanwhile, is 100% organic and vegetarian, with many dishes even being vegan. The only thing that the new restaurant cannot cater to are gluten free diets, since the basis of all its recipes is the slow fermented bread. 
Chaffin has aimed to create a space where people can come to enjoy each other's company, while at the same time focusing on ethical practices and produces. He adds: "As a lifelong vegetarian, I have grown tired of going to restaurants and having one of two choices: stuff mushrooms or pea risotto. I wanted to create something where people like me can look at the menu and pick anything they like on it."
The Spartanburg community has welcomed the new restaurant with open arms, praising it for creating something unique in their town. Chaffin's Bakery has had so much attention already that visitors from surrounding cities have already been to see what all the hype is about.
Source: Rick Chaffin
Share:
---
Categories: Small Business, Food and Beverage Services, Wine
Tags: Rick Chaffin, Rick Chaffin Bakery, Rick Chaffin SC, Rick Chaffin Spartanburg
---