Richmond Window Corporation and Cheeriodicals Utilize Team Building to Spread Cheer to Children's Hospital of Richmond at VCU
Press Release
-
updated: Dec 6, 2017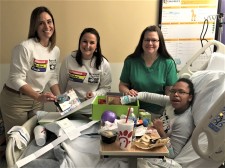 RICHMOND, Va., December 6, 2017 (Newswire.com) - Representatives from Richmond Window Corporation, Central Virginia's exclusive source for Renewal by Andersen window and door replacement, partnered with Cheeriodicals to assemble and deliver 152 "big green boxes of cheer" to patients at Children's Hospital of Richmond at VCU on Dec. 5, 2017.
Approximately 30 Richmond Window Corporation employees volunteered their time to assemble the Cheeriodicals gift boxes, which were filled with magazines and activity books, room decorations, puzzles, stickers, and games for the children to enjoy.
"I've had the wonderful opportunity to participate in Renewal by Andersen's partnership with Cheeriodicals, just this past January in Orange County, California. It was such a moving experience for everyone involved and I wanted to bring that joy to our team, and most importantly, the Children's Hospital of Richmond at VCU," said Lucy Conrad, Marketing Director at Richmond Window Corporation. "I cannot thank Cheeriodicals enough for the work they do and I am overjoyed to meet the children, families and staff that will be impacted due to this event."
What a rewarding event to have everybody here, working together as a team for such a noble cause. At the end of the day, the thing that really made it matter was just to see the smiles on those children.
Says Gary Parisher, President at Cheeriodicals, "We were thrilled to lead the Richmond Window Corporation team to assemble the Cheeriodicals for delivery to the patients and families at Children's Hospital of Richmond at VCU. Giving back is ingrained in their corporate culture and we witnessed the giving mentality of their energetic team members throughout this day of giving."
After a special delivery to the hospital, free of charge, by Two Men and a Truck of Richmond, Richmond Window Corporation and Cheeriodicals representatives began handing out the boxes to patients and families at the hospital. Staff from the Child Life department at Children's Hospital of Richmond at VCU coordinated the delivery at the hospital.
"As Child Life Specialists, we come to work every day to help children and families cope more effectively in the hospital," said Heather Rossi, Senior Child Life Specialist. "Donations like these help us make the hospital a little more fun during the holidays and throughout the year. We're grateful for our community partners who help us make sure that kids come first."
Pitching in for the assembling and delivery of the Cheeriodicals was Richmond Window Corporation president and CEO L. Page Ewell. "What a rewarding event to have everybody here, working together as a team for such a noble cause. At the end of the day, the thing that really made it matter was just to see the smiles on those children," said Ewell.
About Richmond Window Corporation
Richmond Window Corporation has been helping homeowners in Central Virginia with all their window and door needs since 1954. We are a locally owned, family business. We take our place in this community very seriously, especially as a home improvement company. Richmond Window Corporation became the Central VA's exclusive source for Renewal by Andersen® window and door replacement in 2000. Only through Richmond Window will you have access to the complete selection of Renewal by Andersen's top quality products that feature the patented Fibrex™ material construction, the High Performance Low E4 glass system, TruScene™ insect screens plus many more industry-leading features and options. For more information about Richmond Window Corporation, visit www.richmondwindow.com.
About VCU and VCU Health
Virginia Commonwealth University is a major, urban public research university with national and international rankings in sponsored research. Located in downtown Richmond, VCU enrolls more than 31,000 students in 220 degree and certificate programs in the arts, sciences and humanities. 79 of the programs are unique in Virginia, many of them crossing the disciplines of VCU's 13 schools and one college. The VCU Health brand represents the health sciences schools of VCU, the VCU Massy Cancer Center and the VCU Health System, which comprises VCU Medical Center (the only academic medical center and Level I trauma center in the region), Community Memorial Hospital, Children's Hospital of Richmond at VCU, MCV Physicians and Virginia Premier Health Plan. For more, please visit vcu.edu and vcuhealth.org.
About Cheeriodicals
Cheeriodicals Day is catching on across the country. Cheeriodicals has worked with children's hospitals in dozens of markets nationwide, including Houston, Birmingham, Cincinnati, Chicago, Las Vegas, Atlanta, Fort Lauderdale, Columbus, New York, Minneapolis/St. Paul, and Los Angeles on Cheeriodicals Days and has plans to continue working with corporate sponsors to bring cheer to children's hospitals throughout the country. Cheeriodicals is a national corporate team building company that conducts philanthropic events benefiting children's hospitals, Ronald McDonald Houses, Veterans Hospitals and other charities across the country. For more information about Cheeriodicals, Alabama Launchpad 2014 winner, visit www.boxesofcheer.com or follow Cheeriodicals on Facebook.
Source: Richmond Window
---
Categories: Home Improvement and Renovations, Hospitals and Clinics, Corporate Social Responsibility
Tags: Cheeriodicals, Children's Hospital of Richmond at VCU, corporate social responsibility, Richmond Window Corporation, Two Men and a Truck of Richmond
---